Facts
| | |
| --- | --- |
| Designation | SSC-8 |
| Mobility and Role | Road Mobile / Intermediate Range Cruise Missile |
| Designer/Producer | Novator, Russian Federation |
| Range | 50-2500 km estimated |
| Warhead Type and Weight | Conventional or Nuclear/ 400-500KG |
| MIRV and Yield | No MIRV capability / Low-yield (N/A) |
| Guidance System/ Accuracy | GLONASS satellite navigation system / 5 meters |
| Stages Propellant | One / Solid |
| IOC | Deployed February 2017 |
| Status/Number of Units | Operational/ 2 Battalions |
Overview
It was reported by the New York Times on February 14, 2017, that the Russian Federation deployed a new cruise missile, designated as the SSC-8. Though news of the missile's deployment is recent, knowledge of its development is not. The Obama administration had previously called on the Russian Federation to halt its development of the weapon system, which is believed to be a variant of the 3M-54 Kalibr sea-based missile (NATO: SS-N-27 Sizzler). The Times also noted they believe two battalions in Russia are currently equipped with the SSC-8 system, with one of them stationed at Kapustin Yar (the Russian rocket development and test site).
Russia reportedly tested the SSC-8 in July of 2014 at a distance over the Intermediate-Range Nuclear Forces Treaty's (INF) 500km ban and then in September 2015 at ranges under 500km. In November 2016, the United States called for a special verification commission to deal with Russia's alleged INF violation.[i]
Upon formally acknowledging the missiles existence in January of 2019, the Russian Defense Ministry claimed the SSC-8 has a range between 50 and 480 km – INF compliant ranges. The U.S. Air Force National Air and Space Intelligence Center (NASIC) estimated the missiles actual range is a maximum of 2,500 km.[ii]

Strategic Implications
The combination of a low-yield nuclear warhead and intermediate-range cruise missile is to exploit a gap in U.S./NATO capabilities. Mobile ground launched systems are resistant to a preemptive strike and ruise missiles are increasingly more difficult to defend against. The low-yield nuclear warhead equipped on the SSC-8 is not comparable to any weapon currently deployed by the United States. That means if the SSC-8 were fielded in theater against military assets, the United States and NATO would have no proportional response to an attack. This can weaken allied deterrence capability, lower the threshold for nuclear war, and bolster provocative actions by the Russian Federation.
In response to Russia's non-compliance, the United States announced it would suspend the fulfillment of its obligations under the INF on February 2nd,2019. The United States mandated that if in six months the Russian Federation did not return to the implications of its provisions (i.e. destroy all SSC-8 missiles currently deployed) the United States would formally leave the INF on August 2nd, 2019.[iii]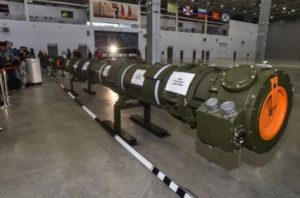 Timeline
June 2019: Defense Ministers of NATO meet and demand that Russia destroy all SSC-8 missiles that are currently deployed
February 2019: The United States sets up the schedule to formally leave the INF on August 2nd, 2019 if Russia does not destroy all of their missiles that are noncompliant with the treaty.
January 2019: Russia formally recognized the missile's existence, but maintains that it does not violate the INF Treaty. Also for the first time, Russia released photos of the SSC-8's launcher.
February 2017: The New York Times reports the Russian Federation has deployed the missile system in violation of the INF Treaty[iv]
September 2015: An additional test of the SSC-8 is reported[v]
July 2014: President Obama writes to President Putin informing him that the United States has concluded the new Russian missile system violates the IMF Treaty[vi]
January 2014: The United States informed NATO allies that Russia was in the process of testing a new ground-launched cruise missile and reaffirmed concerns about its compliance with the INF treaty[vii]
2011: American intelligence officials note there is cause for concern pertaining to the missile's INF compliance
2008: It is believed by American officials that the Russians first began to develop the SSC-8 in 2008, unaware of possible INF violations
---
Sources
[i] https://missilethreat.csis.org/missile/ssc-8-novator-9m729/
[ii] https://fas.org/blogs/security/2017/08/nasic-2017-corrected/
[iii] http://www.military-today.com/missiles/ssc_x_8.htm
[iv] https://www.nytimes.com/2017/02/14/world/europe/russia-cruise-missile-arms-control-treaty.html
[v] http://freebeacon.com/national-security/russia-again-flight-tests-illegal-inf-cruise-missile/
[vi] https://www.nytimes.com/2014/07/29/world/europe/us-says-russia-tested-cruise-missile-in-violation-of-treaty.html?_r=1&mtrref=freebeacon.com&gwh=53420594CD9BE7441301BEEB76F3AC0F&gwt=pay&assetType=nyt_now
[vii] https://www.nytimes.com/2014/01/30/world/europe/us-says-russia-tested-missile-despite-treaty.html?_r=1