Background
Israel is a very close ally for the United States and this position enables Israel to share some of the most advanced U.S. technologies. Geopolitics of the Middle East region and very hostile neighbors (technically Israel has been at war with Syria for decades) dictates the country to pursue and sometimes pioneer missile defense strategies, especially in the defense against the short-range and medium-range ballistic missiles.
Israel's precarious geographic location make the need for missile defense a critical one. Israel is threatened by ballistic missile attacks from state and non-state actors. States hostile to Israel—such as Iran and Syria—pose an existential threat and have done so since Israel's formation in 1948. However, non-state actors such as Hezbollah and Hamas have emerged recently to increase the risk of missile, mortar, and artillery strikes on Israeli territory.
The main threat not only for Israel but also for the international community as a whole is proliferation of ballistic missiles, especially if accompanied with weapons of mass destruction. This is particularly true of Iran, which is trying to play a more important role in the region, in part by advancing its nuclear and ballistic missile capabilities. As a result, Israel has been one of the world's loudest critics of the Joint Cooperative plan of Action (JCPOA).
Israel is also widely believed to have dozens of nuclear warheads and intermediate-range (Jericho 2) and short-range (Jericho 1) ballistic missiles.
Israel has a multi-layered missile defense system. The Iron Dome comprises the lower tier of Israeli missile defense system while the David's Sling system covers middle-layer threats, and the Arrow system defends against long-range projectiles.
---
Israel's Ballistic Missile Defense Capabilities
---
Israel has a number of Patriot batteries, along with an unknown number of MIM-23 Hawks, which are ground-based, mobile, medium-range air defense systems that defend against low and medium altitude airborne threats such as aircraft and missiles, as well as an unconfirmed number of Spyder and Spyder-MR, which are Surface-to-Air Python & Derby Air Defense Systems. The systems are quick reaction, low level missile systems designed to successfully counter attacks by fixed and rotary wing aircraft, missiles and unmanned aerial vehicles (UAVs). they can launch both Derby medium range active radar seeker missile and Python 5 advanced dual waveband IR short range missile.
The Arrow system was Israel's first missile defense system and was designed to counter short-range ballistic missiles. The Arrow Weapon System (AWS), developed by the United States and Israel, provides Israel the capability to defend itself against imminent and developing ballistic missile threats. In addition, it provides the US with critical data and technology for its missile defense programs. It consists of Arrow anti-missile interceptors, the Elta EL/M "Green Pine" early warning radar, the Elisra "Golden Citron" command and control center, and the Aerospace Industries "Brown Hazelnut" launch control center.
Recently tested and soon to be deployed, David's Sling makes up the middle tier of Israel's layered BMD architecture and is designed to intercept short- and medium-range ballistic missiles in the terminal phase. The system was co-developed by Israel's Rafael Advanced Defense Systems and U.S. -based Raytheon. Using its two-stage Stunner interceptor and multi-mission radar, David's Sling is employed as a flexible, multipurpose weapon system capable of engaging aircraft, cruise missiles, and ballistic missiles. Testing for David's Sling began in 2014 and the BMD system underwent operational deployment in May of 2018.
Israel's current short-range anti-rocket system is called Iron Dome, which was independently developed by Israel and became operational in early 2011. The Iron Dome, a short-range anti-rocket system, has made headlines as one of the worlds best current missile defense systems.
In his interview with Newsweek Ricki Ellison, the chairman and founder of Missile Defense Advocacy Alliance, drew a comparison between the Irone Dome and other missile defense systems. Ellison observes that whilst "the Iron Dome system is more designed to intercept rockets and not cruise missiles," the US National Advanced Surface-to-Air Missile System (NASAMS) are designed to intercept cruise missiles. Also, Mr. Ellison contends that that "Israel's Iron Dome system serves as a 'standalone system,' while the Patriot missile defense system can "mesh in with other systems around it." [i]
Israel upgraded its tracking and firing mechanisms and expanded the number of batteries from five to nine between 2012 and 2014. In that same year, Iron Dome intercepted 90% of short-range projectiles fired at Israel. Iron dome is as yet the only combat-tested missile defense system in Israel. The U.S.-made Patriot missile is another defense interceptor that Israel has in their arsenal, in addition to the AN/TPY-2 radar. The sensors built to detect the actual missiles from the decoys have been improved in 2012. AN-TPY-2 X-band radar was currently deployed in Israel. Click here for more information on Iron Dome.
U.S. Financial Assistance to Israel for Iron Dome
| | |
| --- | --- |
| Fiscal Year | Amount Appropriated |
| FY2011 | $205.0 million |
| FY2012 | $70.4 million |
| FY2013 | $211.0 million |
| FY2014 | $235.3 million |
| FY2014 Supplemental | $225.0 million |
| FY2015 | $351.0 million |
| FY2016 | $41.4 million |
| Total | $1.34 billion |
---
Israel's Air Defense Capabilities
| | | | | |
| --- | --- | --- | --- | --- |
| System | Role | Number Deployed | Platform | |
| MIM-104 Patriot/PAC-2 | Medium- to long-range air defense (PAC-2 GEM/T interceptors) | 8 Batteries | Road-mobile | |
| SPYDER | Short – to medium-range air defense | Unknown | Truck-mounted | |
| ELM-2084 MMR | Air Defense and Surveillance | Unknown | Truck-mounted | |
| ELM-2106 ATAR | Medium-Range Tactical Air Defense and Surveillance | Unknown | Truck-Mounted | |
| ELM-2090 Terra | Early Warning and Tracking, Extended Air and Missile Defense Coverage, and Long-Range Detection | Unknown | Fixed Position Radar | |
| ELM-2090u Ultra | Small-Target Detection at Long Ranges, Air Defense, and Early Warning and Detection | Unknown | Fixed Position Radar | |
| ELM-2090s Spectra | Early Detection and Search and Track | Unknown | Road- and Ship-Mobile | |
---
The Israel's Eye: Sky Dew
The Tal Shamayim or the Sky Dew is a system that is comprised of a blimp capable of flying at high altitudes with radar and detection systems to scan a wide range in any direction. The radar-based system is part of a general effort by the Israeli Air Force to improve the country's air defenses, particularly in the north, due to the proliferation of Iranian drones, cruise and long-range missiles in the region. Owing to the size of Israel, however, it is likely that the system also covers other areas around Israel other than just North.
The system itself has been developed under a cooperative program between the Israel's Missile Defense Organization (IMDO) and the US Missile Defense Agency (MDA). That system is comprised of the the High Availability Aerostat System (HAAS), the zeppelin-inspired platform and an advanced radar designed to detect incoming threats at long ranges when operating at high altitudes. The HAAS was developed and manufactured by TCOM, the US company, but ELTA, an Israel Aircraft Industry (IAI) subsidiary, developed an advanced radar system. The huge reconnaissance balloon itself was also produced by the American TCOM, the same company that produced the aerostat for The Joint Land Attack Cruise Missile Defense Elevated Netted Sensor System (JLENS, Spy Balloon). The platform, which can stay in the air for days, uses non-flammable helium gas to stay in the air.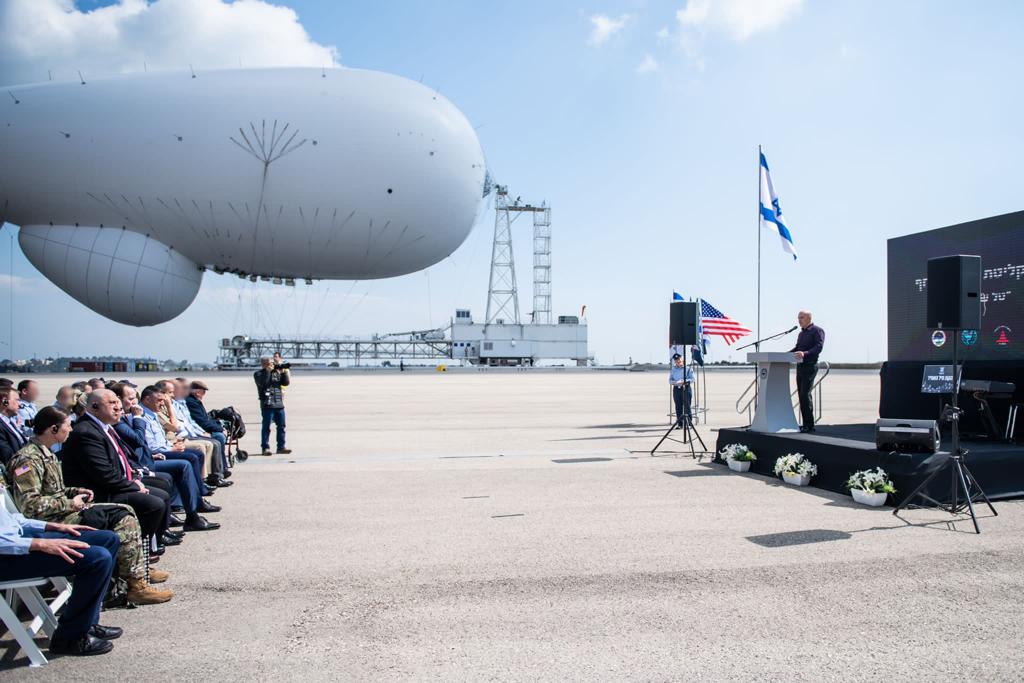 Photograph: The Defense Post
Current Developments
Israel has been working to establish a four-layer active defense network with the development of David's Sling and Arrow 3, in addition to its already operational Arrow 2 and Iron Dome systems.
In August 2008, Israel and the United States initiated the development of "David's Sling" which is designed to counter short- and medium- range ballistic missiles, long-range rockets, and slower-flying cruise missiles, such as those possessed by Hezbollah in Lebanon. David's Sling is expected to defend Israel against Scud B-class ballistic missiles, Syrian 302mm rockets, and Iranian half-ton warhead Fatah-110 rockets that are in the Lebanon-based Hezbollah's stockpile. In December 2015, David's Sling underwent its final tests and by mid-2016 it is expected the system will become operational.
In 2007, Israel—with U.S. assistance—began production of the Arrow-3 missile defense system, which is designed to counter medium-range ballistic missiles. According to Israel, the development of the Arrow 3 Upper Tier Capability is to be accelerated in order to cope with the threat from Iran. Arrow 3 successfully carried out an interception test in December 2015.
Arrow 3 was declared operational and deployed in January 2017.[ii]
Most recently, Israel has begun to integrate its Iron Dome system onto its naval ships. The military said it had successfully tested the system in an exercise where projectiles that simulated existing threats in the region were intercepted. The system will defend Israeli ships and other assets at sea.[ii]
U.S. Financial Assistance to Israel for the Arrow System Improvement Program
| | |
| --- | --- |
| Fiscal Year | Amount Appropriated |
| FY2011 | $66.4 million |
| FY2012 | $59.0 million |
| FY2013 | $44.4 million |
| FY2014 | $44.4 million |
| FY2015 | $56.2 million |
| FY2016 | $56.5 million |
| Total | $326.9 million |
---
Israel's Armed Drone Unit: The Black Snake
Israel is perhaps unique in the world in designating a specific unite in its army for managing its drone activities: Squadron 161, also known as "the Black Snake." For 20 years, a gag order had been issued by Israel censors prohibiting local media from discussing the open secret that Israel has armed drones. That finally changed July 20, 2022. [iii] However, until 2023, it has been almost eleven years that the squadron has been involved in carrying out extensive activity and development. [iiii]
---
Recent News
House Passes Defense Authorization Act with $500 Million for Israel Missile Systems
The Algemeiner: The House of Representatives on Friday passed the $886 billion National Defense Authorization Act (NDAA) for fiscal year 2024, which includes $500 million in missile defense for Israel and a slew of other pro-Israel provisions.
Click here to read more
Air Force successfully tests 'expanded capability' of David's Sling defense system
The Times of Israel: The Defense Ministry and military said Sunday that the Israeli Air Force and Rafael defense firm had successfully completed a recent series of tests with the David's Sling medium-range air defense system. According to a joint statement, David's Sling faced off against "advanced threats," expanding the system's capability "and significantly improving the air defense layers of the State of Israel."
Click here to read more
Gallant, Ukrainian counterpart discuss joint threat from Iran, missile warning system
The Times of Israel: Defense Minister Yoav Gallant spoke Wednesday with his Ukrainian counterpart Oleksii Reznikov and discussed the ongoing Russian invasion as well as a missile warning system that Israel is developing for Ukraine.
Click here to read more
Netanyahu Says He's Opposed To Any Interim U.S.-Iran Deal On Nuclear Program
Israeli Prime Minister Benjamin Netanyahu said on June 18 that he opposes any interim agreement reportedly being negotiated between the United States and Iran over its nuclear program. Netanyahu spoke after reports in Israeli media said understandings are being reached between Washington and Tehran that would seek to hold back Iran's nuclear program somewhat, in exchange for some sanctions relief.
Click here to read more
Israel's David's Sling Air Defense System Makes First Operational Intercept
Israel's David's Sling air and missile defense system intercepted a rocket fired from the Gaza Strip on Wednesday afternoon. It was the system's first operational intercept since its induction in 2017.
Click here to read more
In First, Israeli Anti-drone Radars Deployed in Ukraine
Ukraine received radar systems last week manufactured by the Israeli RADA Electronic Industries, the Lithuanian Blue/Yellow volunteer organization that donated the systems announced on Thursday.
Click here to read more
Ukraine starts testing Israeli missile warning system in Kyiv
An Israeli early warning system for missile attacks began operating in Kyiv this week, Ukranian Ambassador to Israel Yevgen Kornichuk said on Wednesday. Kornichuk had asked Israel for missile warning systems since Russia invaded Ukraine last year. The previous government promised the system to Ukraine, but the ambassador credited Prime Minister Benjamin Netanyahu's personal involvement in ensuring the project's quick completion.
Click here to read more
Iron Dome Is Not Enough to Make Israel Safe
Most Americans probably take news reports of missiles launched by terrorist groups like Hamas and Hezbollah against Israel as more of the same. After all, it often seems that news of attacks against Israel and retaliatory airstrikes are as common as the news of mass shootings in the United States.
Click here to read more
Israel to Supply Dozens of Orbiter 3 UAVs to Greece
Israel's defense company Aeronautics, owned by Rafael Advanced Defense Systems and Stolero Aeron, agreed to supply Greece with Orbiter 3 unmanned aerial systems (UAVs) in a government-to-government contract. The deal is part of the sale of Rafael's Spike missiles to the country in a package worth 370 million euros ($404 million).
Click here to read more
Philippines Gets Additional Fast-Attack Interdiction Ships From Israel
The Philippine Navy has taken delivery of two more fast attack interdiction-missile (FAIC-M) vessels from Israel Shipyards. The delivery is part of the country's Horizon 2 military modernization program launched in 2019 under former President Rodrigo Duterte. According to Philippine Navy spokesperson Capt. Benjo Negranza, the boats were loaded into the general cargo ship M/V Mick and delivered to a naval shipyard in the central Philippines for a series of tests and crew training.
Click here to read more
Israel says signs $400 million deal to sell Greece anti-tank missiles
Israel signed a 1.44 billion shekel ($400 million) deal to sell Spike anti-tank missiles to Greece, Israel's Defence Ministry said on Monday, just days after reaching a similar-sized deal to provide air defences to newly-inducted NATO member Finland.
Click here to read more
Israel's 'Iron Dome' Defense System Compared to U.S. NASAMS, Patriots
Israel experienced an array of rocket attacks from Lebanon on Thursday, which appeared to be sent from Hamas, an Islamist Palestinian militant group. In a video posted to Twitter on Friday morning, Israel Defense Forces (IDF) international spokesperson Lieutenant Colonel Richard Hecht said that Israel's "Iron Dome Aerial Defense System has been operating to intercept the rockets saving countless lives and preventing wide-scale damage on the home front."
Click here to read more
Germany to advance purchase of Israel's Arrow-3 defense system – exclusive
The German Defense Ministry will sign a Letter of Intent (LOI) to purchase Israel's Arrow 3 missile defense system in approximately two weeks, The Jerusalem Post has learned. At the same time, while there was hope that the Bundestag might give its final approval this week or in the near future, a series of questions from the parliament has resulted in postponing final approval until the fall session. Once the LOI is signed, the countries' defense ministries and sectors can start laying more concrete foundations for the deal's specifics ahead of final approval.
Click here to read more
IAI teams with Australian co on missile defense
Israel Aerospace Industries (IAI) has signed a memorandum of understanding (MoU) with Australian defense company Daronmont Technologies, to deliver advanced air and missile defense capabilities as part of the Australian Ministry of Defense Tender (AIR-6502) for the procurement of defense systems and other Australian Defense Forces (ADF) programs. The agreement was signed at the AVALON Australian International Airshow.
Click here to read more
[add_posts tag=Israel show=4]
---
References
[i] https://www.newsweek.com/israels-iron-dome-defense-system-compared-us-nasams-patriots-1793218
[ii] https://www.defensenews.com/global/mideast-africa/2017/01/18/israeli-air-force-deploys-operational-arrow-3-missile-defense/
[iii] http://www.businessinsider.com/ap-israels-iron-dome-system-deployed-on-ships-for-first-time-2017-11
[iiii] https://breakingdefense.com/2023/03/exclusive-israels-black-snake-armed-drone-squadron-comes-out-of-the-shadows/