Mark Montgomery
Board of Directors Member Since May 2021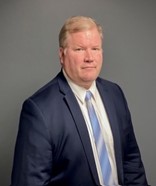 Mark Montgomery is the Senior Director of the Center on Cyber and Technology Innovation and a Senior Fellow at the Foundation for Defense of Democracies. He also serves as the Senior Advisor to the Chairmen of the Cyberspace Solarium Commission, and was previously the Executive Director. From 2017 to 2018 he served as Policy Director for the Senate Armed Services Committee under the leadership of Senator John S. McCain. In this position he coordinated policy efforts on national defense strategy, capabilities and requirements, defense policy and cyber issues.
Mark completed 32 years in the U.S. Navy as a nuclear trained surface warfare officer, retiring as a Rear Admiral in 2017. His flag officer assignments included Director of Operations (J3) at U. S. Pacific Command; Commander of Carrier Strike Group 5 embarked on the USS George Washington stationed in Japan; and Deputy Director, Plans, Policy and Strategy (J5) at U. S. European Command. He was selected as a White House Fellow and assigned to the National Security Council, serving as Director for Transnational Threats from 1998-2001.
Mark graduated from the University of Pennsylvania and Oxford University, and completed the U.S. Navy's nuclear power training program.