Facts
| | |
| --- | --- |
| Mobility | Land-based, moderate mobility |
| Role | Detect and track cruise missiles, drones, rockets, vehicles, and maritime surface vessels |
| Range | Detect threats up to 340 miles away |
| Status | Awaiting approval to resume operational exercise |
| Producer | Raytheon Co. |
Overview
The Joint Land Attack Cruise Missile Defense Elevated Netted Sensor System or JLENS consists of two large, unmanned, helium-filled aerostats that carry a radar system designed to detect and track threats such as cruise missiles, drones, aircraft, large caliber rockets, vehicles, and maritime surface vessels. The JLENS aerostats can float up to 10,000 feet and provide 360 degree coverage for an area approximately the size of Texas. It can also detect threats over the horizon, up to 340 miles away, and can stay airborne for up to 30 days providing 24/7 continual protection. [1] JLENS also integrates with defensive systems such as the Patriot missile defense system, the Standard Missile 6 (SM-6) employed by Aegis BMD systems, Advanced Medium Range Air-to-Air Missiles (AMRAAM), and the National Advanced Surface-to-Air Missile System (NASAMS), as well as other command and control and defensive systems. [2]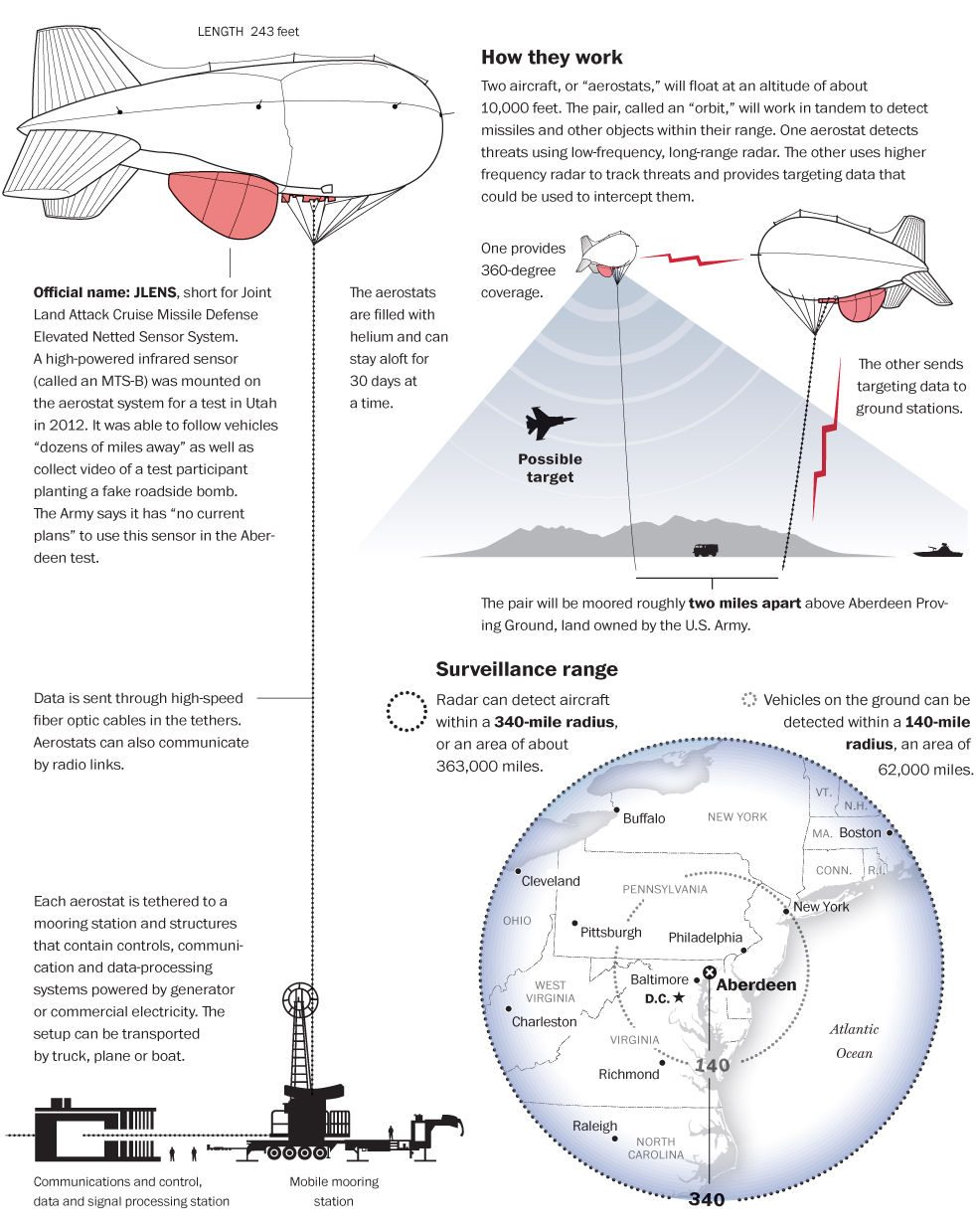 Deployment
The JLENS system is deployed as a pair of aerostats: one carrying surveillance radar systems and the other carrying fire control radar systems. In December 2014, the first surveillance aerostat was moored at Aberdeen Proving Ground (APG) near Baltimore, Maryland with the fire control aerostat deployed several weeks later. The North American Aerospace Defense Command (NORAD) is leading the three-year operational exercise of the JLENS along with the Army's A Battery, 3rd Air Defense Artillery under the U.S. Northern Command.
Strategic Implications
The potential applications for JLENS go far beyond homeland cruise missile defense, and it has shown value in detecting and relaying information, and integrating with other deployed sensor and missile defense systems. JLENS ability to cover up to 340 miles makes it appealing for use by Combatant Commanders to protect deployed troops and track and identify potential targets. JLENS can operate 24/7 and stay afloat for up to 30 days at a time, which makes it a prime surveillance tool to replace reliance on surveillance aircraft, which operate at a higher cost and are restricted by refueling needs. JLENS ability to track vehicles and surface ships also increases its potential for deployment in regions such as the Middle East.
The JLENS system also has applications to protect U.S. and allied forces in the Pacific. Deployment of JLENS could allow the U.S., South Korea, and Japan to monitor, not only potential missile launches from North Korea, but also to identify and track its mobile launchers and surface ships that may pose a significant threat. JLENS would be able to integrate with already deployed missile defense systems such as Aegis BMD ships and Patriot batteries, as well as possible future defense systems in the region such as the Terminal High Altitude Area Defense (THAAD) system. JLENS use in the Pacific could also protect U.S. forces and ships from the cruise missile threat emanating from countries such as Russia and China.
Recent News
[add_posts tag=JLENS-2 show=4]
Timeline
February 2016: Defense Secretary Ash Carter approved restarting the suspended JLENS exercise, but the program needs Congressional action to continue. [3]
October 28, 2015: The JLENS fire-control radar aerostat broke free from its tether during extreme weather conditions and floated for several hours before coming down in rural Pennsylvania. The JLENS exercise was suspended following this incident.
December 2014: NORAD deployed the JLENS surveillance aerostat at Aberdeen Proving Ground in Maryland, followed several weeks later in 2015 by the JLEN fire control aerostat. This began a three-year operational exercise of the system.
July 2013: JLENS supported an IFC test in which an Air Force F-15 targeted a drone.
September 2012: JLENS proved IFC targeting information to a Navy Aegis BMD system using Cooperative Engagement Capability datalinks during a joint JLENS-Navy Integrated Fire Control-Counter Air (NIFC-CA) missile flight test. [4]
April 2012: JLENS provided support for an Integrated Fire Control (IFC) live missile flight test that resulted in the successful intercept of a fixed-wing target drone aircraft in a controlled test environment. [5]
July 14, 2010: The JLENS aerostat deployed to a new high of 10,600 feet above Mean Sea Level, carrying a mock payload of approximately 5,000 pounds.
April 14, 2010: A JLENS aerostat conducted a successful first launch to 1,000 feet above ground level and recovery to 300 feet at the UtahTest and Training Range (UTTR) Echo Site. [6]
March 2008: Preliminary design review of the JLENS completed. [7]
April 2007: Raytheon completed a successful system functional review of the JLENS.
November 15, 2005: Raytheon received a $1.3 contract to develop and tests the JLENS radar system.
1999: During the All Service Combat Identification and Evaluation Team (ASCIET) exercise, a 15m aerostat with the type of technology found in the current JLENS was deployed with a Cooperative Engagement Capability relay on a mobile mooring station. This relay allowed the Army's Patriot air defense system and the Navy's AEGIS weapon system to exchange radar data.
January 30, 1998: The U.S. Army SMDC awarded a contract to Raytheon Company for the JLENS system and Raytheon began working on small scale models. 
June 1997: The JLENS Project Office released a request for proposals for a JLENS sensor demonstration system. 
1996-1997: The U.S. Army Space and Missile Defense Command (SMDC) was tasked with standing up a JLENS Project Office and initiating concept studies and risk reduction efforts related a JLENS system. [8]
References
[1] "JLENS." Raytheon. http://www.raytheon.com/capabilities/products/jlens/.
[2] Ibid.
[3] http://www.militarytimes.com/story/military/2016/02/17/pentagon-supports-restarting-jlens-blimp-tests/80492054/.
[4] http://www.dote.osd.mil/pub/reports/FY2013/pdf/army/2013jlens.pdf
[5] Ibid.
[6] http://www.dod.mil/pubs/foi/Reading_Room/Selected_Acquisition_Reports/JLENS-SAR-25_DEC_2010.pdf
[7] http://www.army-technology.com/projects/joint-land-attack-cruise-missile-defense-elevated-netted-sensor-system-jlens/
[8] "Joint Land Attack Cruise Missile Defense Elevated Netted Sensor [JLENS]." Federation of American Scientists. Updated July 25, 1999. http://fas.org/spp/starwars/program/jlens.htm.