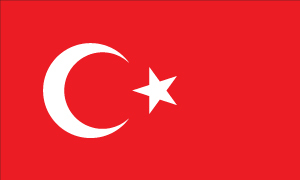 Background
Turkey is a key NATO member located at the gateway between Europe and the Middle East. The country borders two failed states–Iraq and Syria–and subsequently is under constant threat from the residual effects of regional conflict. The Syrian civil conflict poses a threat to Turkish national security as rockets and shells regularly land on the side of the Turkish border injuring and killing civilians.
Moreover, Russian combat aircraft conducting combat operations in Syria regularly infringe on Turkish airspace. In November 2015, tensions between Turkey and Russia spiked following an incident in which a Turkish F-16 fighter aircraft shot down a Russian Su-24 combat aircraft after the Russian fighter had flown over Turkish airspace. Diplomatic relations between Russia and Turkey have improved since the incident, however, Russian military operations in Syria continue to be of concern to Turkish officials. 
Turkey also shares a border with a regional adversary, Iran, which possesses an advancing ballistic missile arsenal that puts Turkey at risk. Indeed, Turkey is within range of many of Iran's short- and medium-range ballistic missiles. The quantity and proximity of these threats make air and missile defense appealing to Turkey. As a result, the country has made considerable efforts to acquire and/or host foreign missile and air defense systems while also researching and developing defense systems domestically.
---
Ballistic Missile Defense Capabilities in Turkey
| | | | | |
| --- | --- | --- | --- | --- |
| System | Operator | Number Deployed | Platform | |
| AN/TPY-2 radar | United States | One (forward-based mode; deployed at Kurecik as mandated by Phase 1 of the EPAA) | Ground-based sensor | |
As of January 2017, Turkey does not yet have an indigenous ballistic missile defense system—but has made moves to develop one—and currently relies on Patriot Advanced Capability-2  and the SAMP-T provided by NATO allies Spain and Italy respectively. In January 2013, NATO deployed Patriot Advanced Capability (PAC-3) missiles to Turkey's southwest border to protect its citizens from Syrian short range missile strikes. Initially, these forces consisted of Patriot batteries from the United States, Germany, and the Netherlands. The Netherlands removed their Patriot battery in January 2015 and was replaced by a Spanish Patriot (PAC-2) battery.
In August 2015, both the U.S. and Germany announced the removal of their Patriot batteries from Turkey. As of February 2016, Spain is the only nation with a Patriot battery operating in Turkey. In June 2016, Italy deployed a SAMP/T battery in southern Turkey to assist the NATO mission protecting Turkey from ballistic missile threats in Syria. Iran  declared that the deployment of the NATO missile defense shield would exacerbate regional tensions.
Air Defense Capabilities in Turkey
| | | | | |
| --- | --- | --- | --- | --- |
| System | Platform/Role | Number Deployed | Operator | |
| MIM-104 Patriot/PAC-2 | Road-mobile/Medium- to long-range air defense | One battery | Spain (deployed at Adana) | |
| SAMP/T | Road-mobile/Medium-range air defense | One battery | Italy (deployed in Kahramanmaras) | |
| NASAMS | Road-mobile/Medium-range air defense | Unknown | Turkey | |
| Sea Sparrow Missile | Sea-based/Short-range air defense | Deployed on four Barbaros-class frigates | Turkey | |
| Rapier FSC (Field Standard C) | Ground-based; road-mobile/Short-range air defense | Uknown | Turkey | |
| Sea Zenith CIWS | Sea-based/Short-range air defense | Three systems deployed aboard each of the four Barbaros-class frigates (12 total) | Turkey | |
---
Current Developments
In June 2016 an Italian Eurosam SAMP/T long-range air-defense unit has arrived in southern Turkey's Kahramamaras province as part of NATO measures to reinforce Turkey's border defenses against a possible Syrian missile threat.
Turkey is developing its own long-range air missile defense system known as T-LORAMIDS. Turkey awarded a $3.4 billion contract to the China Precision Machinery Import and Export Corp (CPMIEC) in a co-production agreement to produce the FD-2000 missile defense system.  Turkish procurement officials cited joint-production, delivery time, and price for reasons favoring the Chinese bid; however, the agreement has not been finalized. Turkish procurement officials acknowledged in Feb 2014 that moving forward with the Chinese bid could jeopardize future defense collaborations with NATO and the missile defense project was ultimately cancelled by Turkey in late 2015. 
In November 2015, after the Chinese T-LORAMIDS missile defense project was cancelled, Turkey expressed intent to develop a missile defense system internally. It is likely that the contract for the missile defense system will be contracted to state-controlled Turkish companies Aselsan and Roketsan, possibly in cooperation with Lockheed Martin and Raytheon. Nonetheless, Turkey has claimed that it likely to purchase a bridge-gap solution—either the U.S. Patriot system, the Italian SAMP/T, or the Medium Extended Air Defense System (MEADS) —to deal with the current ballistic missile threat while it builds its own system. However, in July 2017, Turkey turned away from NATO-made BMD systems, instead purchasing four Russian S-400 air and missile defense system.
Recent News
Contact