"If you don't have the ability to defeat any adversary, your deterrence structure is weak." – Gen. Mark Milley, Chairman of the Joint Chiefs of Staff.
The dangers posed by America's adversaries in missile proliferation and complexity continue to evolve, and, simultaneously, these adversaries are leveraging gaps and seams during the first 35 days of President Biden's Administration and period of transition of the United States presidency.
The near-peer missile threat environment in contested regional areas generates the greatest risk of eroding deterrence and increasing potential escalation of conflict to the U.S. and its allies and partnered nations around the world. The near peers have deployed, demonstrated, and exercised with cross-domain platforms that carry missiles to overmatch and overwhelm in technology in a deliberate effort to flex their power projection to challenge the new U.S. president.
The Pacific
The People's Republic of China (PRC) has just conducted an exercise of a naval air assault in the South China Sea, with bombers simulating the sinking of a U.S. aircraft carrier, in addition to the several drills that have been mounted in response to U.S. presence in the Western Pacific.
The PRC has deliberately violated Taiwan's air defense identification zone (ADIZ) with extraordinary frequency, triggering the Republic of China's (RoC) early-warning systems even several times a week.
The PRC continues to develop its long-range and strategic-strike capabilities, including its nuclear-capable weapons systems (regardless of yield).
Europe
The Russian Federation has announced further research, development, testing, & evaluation (RDT&E) of a newer strategic system for this year: the 'Avangard' hypersonic-glider-capable ICBM.
The Russians have escalated regional tensions with the deployment of anti-ship weapons systems and units to Crimea, as well as unspecified missile-carrying systems and units to the Bear Gap, north of Norway. Early this month, the Baltic Fleet's 'Iskander-M' tactical missile systems were used during drills in Russia's westernmost Kaliningrad Region.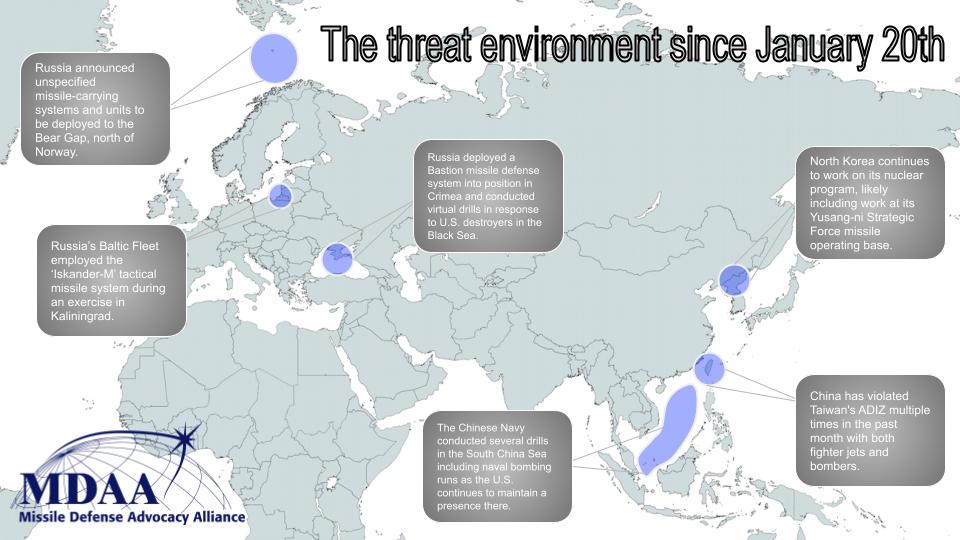 North Korea
A classified U.N. report, on February 8th, identified that North Korea produced fissile material, maintained nuclear facilities, and upgraded its ballistic-missile infrastructure during 2020.
Commercial satellite imagery recently indicated that the Yusang-ni Strategic Force missile operating base is indeed operational and that minor development of it continues.
Iran
Iran has unveiled and publicly tested the 'Zoljanah', a new satellite launch vehicle that has a solid-fuel engine that can reach an altitude of up to 310 miles and carry a 1,100-pound payload, which makes it a stepping stone towards a nuclear ICBM capability. In addition, Iran has also tested a new short-range ballistic missile (SRBM).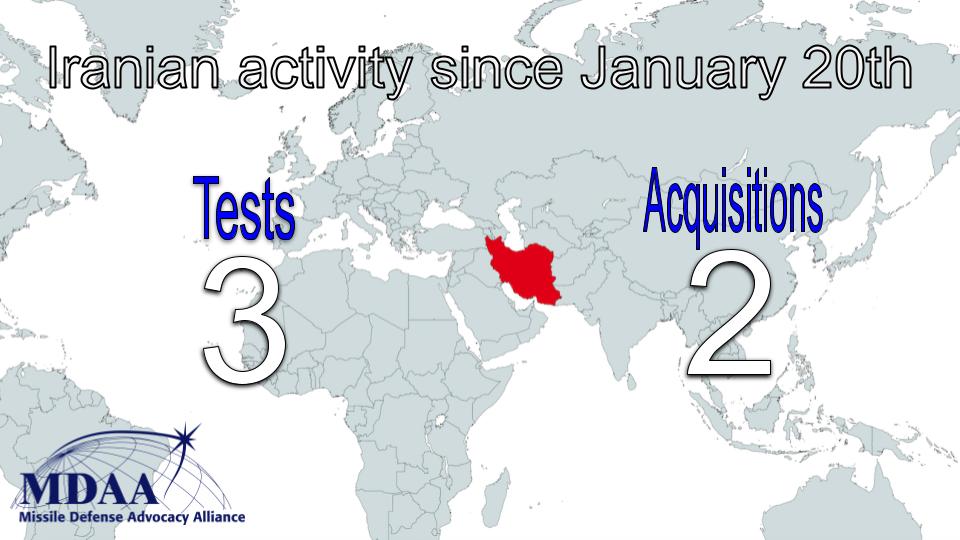 Yemen
The Houthi Rebels have been carrying out a variety of attacks on the Yemeni government and its supporting Arab Coalition forces, as well as directly over the borders with Saudi Arabia.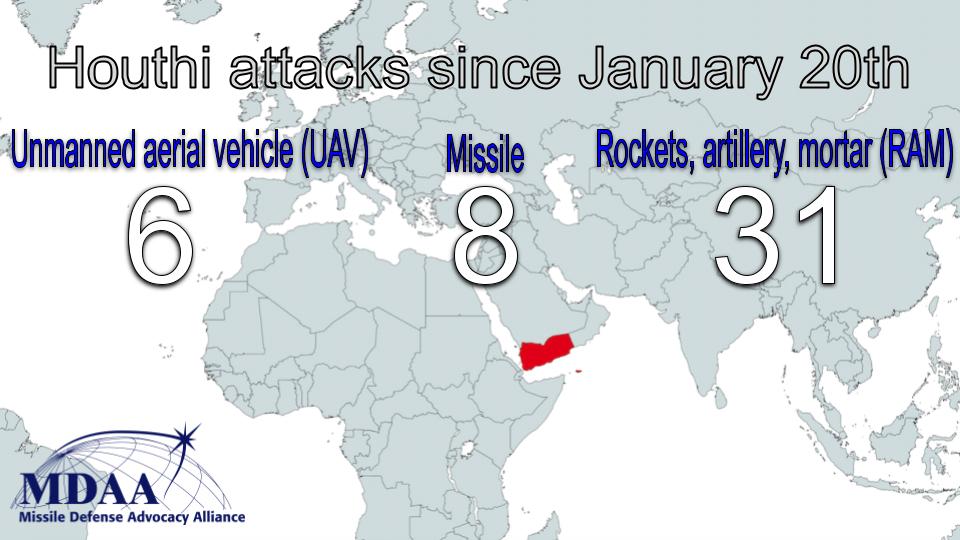 We at MDAA will continue to count and track each day of President Biden's term regarding the missile threat environment, as it presents more challenges and more opportunities for solutions under President Biden.
"Accelerate change, or lose." – CSAF Gen. "CQ" Brown