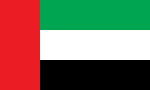 United Arab Emirates
December 2016
Background
The United Arab Emirates is a key American partner in the creation of an integrated Gulf Missile Shield. Abu Dhabi's investments in missile defense reflects a serious concern about Iran's large and developing missile arsenal. It is the first country outside of the United States to deploy the THAAD missile defense system.
---
Ballistic Missile Defense Capabilities in the UAE
System
Operator
Number Deployed
Platform
Role
Patriot/PAC-3
UAE
9
Ground-Based Launchers
15km (PAC-3), 22km, interceptor
United States
2
THAAD
UAE
2
Mobile/Ground-Based
Medium-range, atmospheric interceptor
AN/TPY-2 Radar
UAE
2
Ground-Based
Forward-based radar for BMDS; Primary terminal radar for THAAD
---
The UAE possesses the most advanced missile defense assets in the Gulf region as the only country outside the United States to deploy a THAAD battery and the first GCC country to deploy the Patriot PAC-3. Abu Dhabi currently deploys a mixture of Patriot GEM-T and PAC-3 missiles for terminal point defense, and THAAD for extended range and potential exoatmospheric engagements. The UAE posses an unknown number of MIM 23-Hawks that are capable of defending against low and medium altitude airborne threats such as aircraft and missiles . The UAE also purchased two AN/TPY-2 radars to provide sensing and situational awareness. The United States also deploys two of its own Patriot PAC-3 batteries to the UAE to provide additional defense.
Current Developments
The UAE continues to push the development of capabilities for missile defense and has voiced interest in purchasing upgraded PAC-3 MSE interceptors. Efforts continue to integrate all of these assets with those of fellow GCC member states to find optimal defense solutions in conflict situations. This integration will be essential to maximizing the return on the substantial investments made by Abu Dhabi.
Recent News
Contact