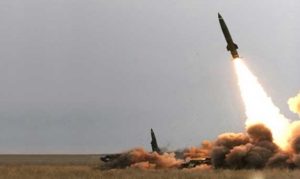 DefenseWorld.net:
Saudi Arabia has intercepted ballistic missile, launched by Houthi militant group, that was likely to hit Mecca, a holy city of Muslims.
The missile was launched from Saada province toward the Makkah area. Saudi air defense was able to intercept the missile and destroy it about 65 km from Makkah. Hence, no damage was caused, nor there were no injuries, Saudi Officials said in a statement Thursday.
The missile targeted an international airport in Jiddah, Rebel media in Yemen said. The rebel forces had fired a Volcano-1 variant missile at Jiddah's King Abdulaziz International Airport, the Houthi-controlled satellite news channel Al-Masirah said in a bulletin without mentioning Mecca. That airport is 75 kilometers (45 miles) northwest of Mecca.
However, it was "intercepted and destroyed" 65 kilometers (40 miles) from Mecca, which is home to the cube-shaped Kaaba that the world's Muslims pray toward five times a day.
The missile launch shows willingness of Yemen's Shiite rebels, known as Houthis, and their allies to continue to strike Saudi Arabia. It also drew the immediate anger of Saudi citizens, as the protection of Mecca is a key pillar of the Saudi royal family's prestige and the country's national identity.
The Saudi military said that the missile was fired Thursday night from Yemen's northwestern Saada province bordering the kingdom. The Saudi military has a supply of US-made, surface-to-air Patriot missile batteries it previously has fired at Houthi-launched missiles.
A Houthi ballistic missile fired, earlier this month, targeted Taif, home to Saudi Arabia's King Fahd Air Base, which also is near Mecca.