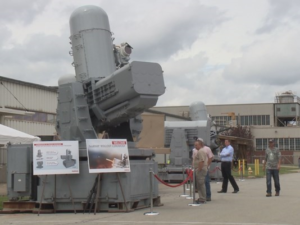 WHAS11:
Raytheon corporate leaders say the company is poised to expand operations at its Louisville facility.
The international tech company builds defense systems for the U.S. Navy and its foreign allies. The south Louisville plant currently employs around 290 people. With the expansion, Raytheon expects to add 98 advanced manufacturing and engineering positions at its local production facility over the next five years.
The announcement comes on the heels of a contract to produce Naval Strike Missiles (NSM). The Louisville factory will build NSM launchers, an addition that is expected to create around 98 advanced manufacturing and engineering jobs over the next five years.
"It's a dangerous, unpredictable world we live in right now and to see one of the premiere defense systems built and designed right here in our home city is something all Louisvillians can be proud of," Mayor Greg Fisher said during a ceremony at Raytheon on Monday.
Raytheon's continued growth in Louisville has been bolstered by the continued success of the Phalanx and SeaRAM systems. Phalanx is a rapid-fire, computer-controlled radar and gun system that tracks and destroys enemy threats. SeaRAM is an effective missile-firing defense system.
A number of SeaRAMs built in Louisville will soon be installed on U.S. warships, following a successful live firing test in Rota, Spain last month. Among its many impressive features, SeaRAM can shoot at threats moving as fast as the speed of sound.
U.S. Navy Capt. Craig Bowden called the SeaRAM a "technical marvel," adding that it was the only defense system capable of keeping American sailors safe.