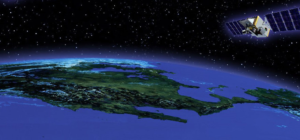 Defense One:
Just west of the New Jersey Turnpike in Philadelphia's suburbs, a latticework of steel is stretching skyward, preparing to support a prototype missile-defense radar so tall it required a local zoning variance. But even that won't be high enough for Pentagon planners who think the real future of sensing is in orbit.
On a steamy August morning, a bright yellow crane hoisted beams to a small crew of workers, just about the only ones visible beyond a chainlink security fence. Only two weeks into the construction, the frame of this building was already several dozen feet high.
"We're on a very aggressive schedule because we have to get the capability fielded by 2020," said Carmen Valentino, the man in charge of the project for Lockheed Martin.
The latest piece of the Pentagon shield built to protect the United States from long-range ballistic missiles, the building will house the prototype Long-Range Discrimination Radar, which Lockheed Martin executives say will track enemy missiles more precisely than today's sensors. Tests in New Jersey will help shape an even larger missile tracking radar being built in Alaska at Clear Air Force Station, a military outpost near the Arctic Circle that has watched for incoming ICBMs since the late 1950s.
Company executives here won't say whose missiles the radar is built to track, but it's no secret the radar in Alaska will face southwest, directly at North Korea, which has been test-firing rockets at an unprecedented pace this year.
"The number of tests has exceeded any previous year and we're only seven months or eight months into it," Vice Adm. James Syring, the director of the Missile Defense Agency said during a presentation at the Space and Missile Defense Symposium in Huntsville, Alabama, earlier this month.