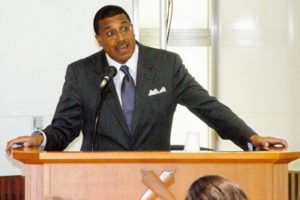 The National:
The Arabian Gulf must keep up with the rising threat of ballistic missiles in the region and build a GCC-wide missile defence system to ensure its security, said a United States arms official.
Frank Rose, assistant secretary of arms control at the US state department, said during a speech at a US-UAE Business Council dinner in Abu Dhabi that such a move would provide GCC countries with better early warning capability and a more layered and effective defence.
"We can see increasing capable ballistic missile threats to the GCC from multiple directions," Mr Rose said. "The ball is now in the GCC's court."
In the past few years, the missile threat has increased and it is likely to continue over the next decade, according to the ballistic missile defence review, which said in 2010 that missile systems were becoming more flexible, mobile, survivable, reliable and accurate, while also increasing in range.
"They got it exactly right," said Mr Rose, whose visit to the region was his 10th. "The restrictions placed on Iran's nuclear programme have significantly improved regional security by preventing the threat of a nuclear-armed Iran.
"Nevertheless, Iran maintains a large and diverse ballistic missile arsenal that includes close-range through medium-range ballistic missiles."
Over several years, Syria has also carried out dozens of ballistic missile strikes against its own population alongside rocket and artillery attacks carrying chemical weapons, inflicting widespread casualties.
"These attacks, along with vicious chlorine gas and barrel-bomb attacks, have contributed to the immense suffering of the Syrian people," Mr Rose said on Monday.
In Yemen, ballistic missiles have been used frequently by the Iran-backed Houthis. "These developments argue for thinking about ballistic missiles and our potential responses in a strategic context," he said. "As well as military responses, missile defence can support political and diplomatic activities to reduce regional tensions by enhancing regional stability, and by assuring leaders and populations under threat that they have a defence against attack."