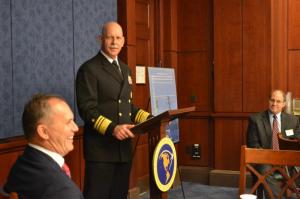 Washington DC – November 14, 2014 – Today at the U.S. Capitol, the Missile Defense Advocacy Alliance, www.missiledefenseadvocacy.org, hosted the 10th Anniversary of the Aegis sea-based ballistic missile defense (BMD) system becoming operational. Marking this historic occasion was the Director of Navy Staff, Vice Admiral Scott Swift and the first Aegis Ballistic Missile Defense Program Director and "Mother" of Aegis BMD, retired Rear Admiral Kate Paige.
RADM (ret) Kate Paige stated that "on September 30th, 2004, U.S. ships, beginning with the Curtis Wilbur, were on station in the Sea of Japan, with an operationally certified Aegis BMD capability… this was not a provisionally certified capability, not a prototype capability, it was operationally certified, being run by sailors at sea."
Over the past ten years, the sea-based Aegis BMD has had an 85% success rate in tests, with a total of 29 hit to kill ballistic missile intercepts. There are 37 BMD ships in the world, 33 in the U.S. Navy, and four in the Japanese navy. In its most recent test, the Aegis-equipped destroyer USS John Paul Jones (DDG 53) intercepted a ballistic missile and two cruise missiles in a single operation off the coast of Hawaii last week. In 2008, the system also shot down a potentially toxic satellite before it could reenter the atmosphere.
The value of Aegis BMD is "in its reliability, with the best overall test record of any missile defense system in the world." Said MDAA Chairman Riki Ellison. "As such, it provides the most confidence to our war fighters and continues to prove itself around the world in the most volatile air and missile threat regions including a critical role in the defense of the United States homeland. From the East China Sea, to the Sea of Japan, the Persian Gulf, the Eastern Mediterranean and the Pacific Ocean it is the most versatile and mobile platform our nation has."
"It has not just given us a tool," VADM Scott Swift said, "but a toolkit."
VADM Swift went on to comment on Aegis's ability to enhance regional alliances and partnerships. "If you have a common threat, that is common to different countries, and they recognize the need to come together as whole and collaborate for BMD, you have the makings of something that can get across that cultural divide."
"Missile defense's most important value is in deterrence." Said Mr. Ellison, closing his remarks. He went on to say that Aegis BMD "is the future in showing a full deterrent capability, combining integrated defensive and offensive operations on a single platform with mobility around the world…no other system can do that."
Click here views photos from the Aegis BMD 10th Anniversary celebration.
###