The 100th day mark has been used in every presidential administration as a milestone for Americans to reflect on what progress has been made, and where the future ahead lies. President Joe Biden marked the eve of his first 100 days in office with an address to the United States Congress and the American people.
MDAA recognizes the significance of this date with a focus on the missile defense issue, tracking and analyzing the global missile threat environment since the day President Biden took the oath of office and the Presidential responsibility to deter, and, if necessary, defend against the growing missile threats shaping the global landscape that are increasing by the day.
To best capture that global missile threat, here is the sectioned recount of how the world's missile occurrences took place during the last 25 days of the Biden administration.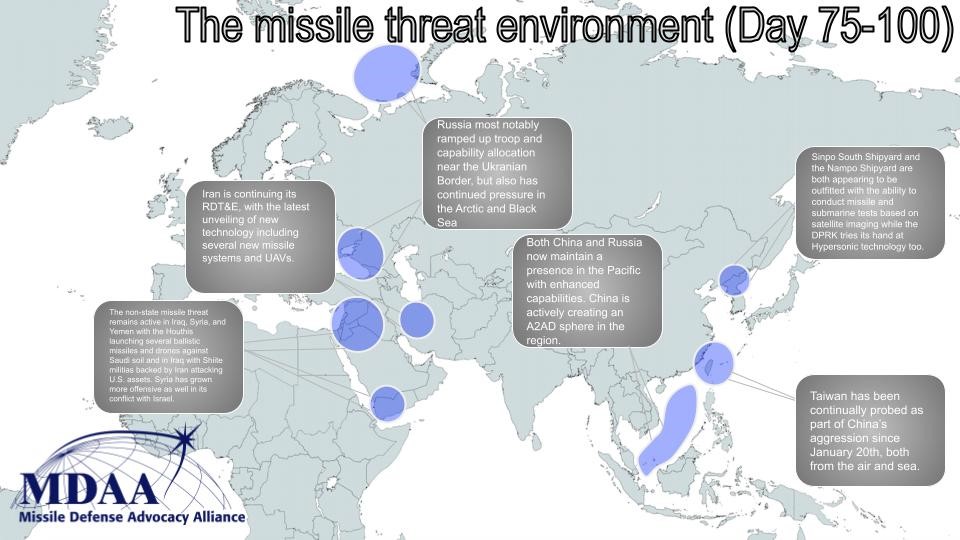 People's Republic of China (PRC)
The Indo-Pacific has become the focal point of where the next generation of missile defense and deterrence is required to ensure the safety of American interests and allies, as well as where the U.S. sees itself going head to head with its main adversary: The PRC and its continually growing military. The butting of heads was on center stage as the Chinese Navy's Liaoning Carrier Strike Group maneuvered through the Miyako Strait while the U.S. Navy was conducting exercises in the South China Sea (April 10th). This showcase of defiance is part of China's larger goal of pushing the United States out of the region and creating an anti-access / area denial (A2/AD) sphere, unrivaled by anyone else in the region. Deployment of China's new DF-26 intermediate-range missile, dubbed the "Guam killer" by Beijing, has rapidly expanded.
These recent events build on the large force for power projection and A2/AD that China has deployed in recent years. As the last annual report on China's military power submitted by the Defense Department to Congress last year points out:
"The PRC has the largest navy in the world, with an overall battle force of approximately 350 ships and submarines including over 130 major surface combatants. In comparison, the U.S. Navy's battle force is approximately 293 ships as of early 2020."
"The PRC has more than 1,250 ground-launched ballistic missiles (GLBMs) and ground-launched cruise missiles (GLCMs) with ranges between 500 and 5,500 kilometers. The United States currently fields one type of conventional GLBM with a range of 70 to 300 kilometers and no GLCMs."
The Chinese People's Liberation Army (PLA) has also reportedly deployed its HQ-9 long-range air defense systems near the contested, de facto border with India in Ladakh, raising tensions with America's partner India.
Taiwan has been continually probed as part of China's aggression since January 20th, and this trend has remained the same. Examples of this include two Chinese military vessels probing near Orchid Island amid Taiwan conducting a three-day missile test (April 7th). In addition, China sent 25 warplanes into Taiwan's air defense identification zone (ADIZ) (April 12th). The PLA's Eastern Theater Command, which overlooks the Taiwan Strait, conducted a nine-hour live-fire drill with H6-K Bombers in late April (April 20th).
The PLAN, PLAAF, and Maritime Militia are executing illegal Air and Maritime actions across the South China Sea, and it is a matter of time before they deploy missiles on their illegally militarized maritime features. As with Taiwan, the Chinese Communist Party continues to unlawfully threaten the territory of the Republic of the Philippines, most perniciously at Scarborough Shoal and Second Thomas Shoal. We must remain mindful that the Philippines is our long-standing ally, and that it does not possess a Missile Defense capability. Their vulnerability is our vulnerability.
Amid its aggression, China is also continually modernizing their arsenal and capabilities, and using this development as a show of strength. A ceremony in Sanya in which President Xi Jinping was present showcased new capabilities, including an amphibious helicopter carrier, a nuclear sub, and a guided-missile cruiser, all missile platforms.
Russian Federation
Russia has come to prominence once again as a potential adversary of the United States — and is identified as the second biggest state threat behind China. Their strategy has promoted efforts to destabilize our democracy, promote social divisions, and undermine faith in the U.S. government's integrity in order to weaken the United States, which it views as an adversary. This includes cyber-attacks and threatening movements of forces, and missile tests in contested waters throughout the globe, including the Pacific. The Russian Navy has for the first time fired a long-range Kalibr cruise missile against a ground target in the Sea of Japan, showcasing their long-range capabilities (April 6th). Further adding to their Pacific buildup, the Marshal Shaposhnikov frigate of the Russian Pacific Fleet has finished all the necessary tests and is now part of the combat ready forces equipped with enhanced capabilities including Kalibr and Uran cruise missile systems (April 27th).
Russia is pushing this buildup in other bodies of water too, including their sustained Arctic buildup. The first Bal missile systems are now in place along the northern Barents Sea. Over 20 Russian vessels took part in exercises along with Su-25SM3 attack aircraft in the Black Sea, followed by Russia announcing its closing of the airspace over parts of Crimea and the Black Sea.
The international community closely tracked the buildup of over 100,000 Russian forces at the Ukrainian border, which they ultimately pulled back. However, it is important to note that the buildup included the deployment of Iskander ballistic missiles.
On the RDT&E side, Russia continues its hypersonic program, and has successfully tested a new ICBM interceptor too. Russia's Aerospace Force successfully test-launched the new interceptor of the country's ABM defense system at the Sary-Shagan proving ground in Kazakhstan (April 26th).
The Kim regime & North Korea
The Democratic People's Republic of Korea (DPRK) has closed all diplomatic ties with the Biden Administration and ramped up missile testing in that time. While they master their ballistic capabilities, they are also looking into new R&D. Recently established, a new college at the Kim Jong Un National Defense University will focus on hypersonic missile technology (April 1).
Several facility locations appear to be up and running at the moment too. Sinpo South Shipyard and the Nampo Shipyard are both appearing to be outfitted with the ability to conduct missile and submarine tests based on satellite imaging. The timing is also intriguing given reports indicating the DPRK has built a new submarine capable of carrying at least three ballistic missiles.
This development resulted in a determination that North Korea is working to develop capabilities that can degrade or even defeat US missile defense systems deployed in its region.
Islamic Republic of Iran
Iran remains a destabilizing force in the Middle East via its proxy militias but also remains committed to advancing its own military's arsenal and nuclear program. Iran has moved forward aggressively to advance its nuclear weapons capabilities in unprecedented ways over the past 100 days. For example, the International Atomic Energy Agency announced in February that Iran had produced uranium metal which is a critically important step to producing a nuclear weapon. Iran has also moved forward to enrich uranium to the highest concentration ever in the history of its program, stating that it had enriched a stockpile of the material to 60%. Nuclear reactors for energy production use low-enriched uranium fuel at 3-5% enrichment levels, while nuclear weapons use uranium typically enriched to over 90%. Iran has boldly challenged the United States and our allies to revoke sanctions and threatened continued movement to greater nuclear capabilities. Iranian President Hassan Rouhani delivered a blunt message to the U.S., stating that, "60% enrichment is an answer to your evilness."
Iran has continued to arm and back Yemen's Houthi militia which has launched increasing missile and drone attacks on Saudi Arabia despite the Biden administration's outreach to the Houthis and roll-back of sanctions on the group imposed by the Trump administration.
NBC news reported that the Houthis launched more than 40 drones and missiles at Saudi Arabia in February alone. In another attack in March that has become common in the last 100 days, Houthi forces said they launched a medium-range Zulfiqar missile and 10 armed drones at the eastern Saudi cities of Ras Tanura and Dammam, home to key oil facilities, and seven short-range Badr missiles and four drones at targets in the south of Saudi Arabia.
On April 20, Greece announced that it would lend Saudi Arabia a Patriot missile battery as the Gulf kingdom seeks to protect vital infrastructure against attacks by the Houthis.
Evidence of Iran continuing its drive to develop more capable drones and missiles has continued to mount in the last 100 days. For example, a research drone belonging to the Iran Aircraft Manufacturing Industrial Company (HESA), a subset of Iran's Ministry of Defence and Armed Force Logistics (MODAFL) crashed in Shahinshahr Province due to a technical error (April 15th). Iran would later showcase new drones they have developed along with other new acquisitions in a parade marking Army Day. They unveiled three homegrown missile systems, including the 'Damavand' strategic and long-range system, the 'Zolfaqar' low-altitude missile system, the 'Majid' missile system, and the 'Khatam' artillery fire control system capable of hitting various aerial targets at a low altitude (April 19th).
The non-state threat
In Iraq, rocket and missile attacks against Iraqi military, Coalition, and civilian infrastructure, including against places that host U.S. service people and contractors, were frequent over the past 100 days. Lastly, in southern Israel, rocket and mortar attacks from Gaza against Israeli infrastructure, and its people, occurred multiple times, testing the Israeli missile defense architecture intensely.
***
The past 100 days have seen the geopolitical landscape get tougher, but the one constant remains: the missile threat is real and present. It is out there and it is only progressing and becoming more pernicious and more dangerous, as proliferation goes unchecked.
The first 100 days of the Biden administration have seen America's adversaries testing the resolve of our new President. From massing of Russian troops, aggressive deployments of China's military forces, a big increase in missile and drone attacks by Iran's proxies against America's allies in the Middle East, North Korea's stepped up missile testing, and rocket attacks on U.S. forces and allies in Iraq.
The actions taken by America's adversaries are paired with increasing threats and harsh rhetoric from Chinese President Xi Jinping, Russian President Putin, Iranian Supreme Leader Khamenei, and North Korea's Supreme Leader Kim Jong-un. These hardened authoritarian leaders are clearly seeking to see if President Biden and his administration have the courage and capability to stand up to their threats and military moves that have featured missiles. America must show strength and determination to protect our people, allies, and interests. A key part of our response to the significant growth of missile threats requires a robust increase in missile defense capabilities to deal with the clear and present danger we already face that has grown greater in only 100 days.
The aggregated missile threats from China, Russia, North Korea, Iran, and non-state actors are growing exponentially in terms of their numbers, variety, capability, lethality, and sophistication. The associated complexities and challenges of designing, producing, integrating, and deploying our missile defense, denial, and deterrence systems are significant. The Biden administration will have to be aggressive for its requisite funding, fielding, and integration of the effective missile defense systems that we have already designed, produced, and successfully tested.
"In my discussions with President Xi, I told him we welcome the competition. We're not looking for conflict. But I made absolutely clear that we'll defend America's interests across the board." — 46th President of the United States Joseph R. Biden.