Command and Control
Command and control (C2) is vital to the success of the U.S. missile defense mission, acting as the nerve center for tactical, operational, and strategic missile defense initiatives. Layered missile defense operations are dependent on C2 systems, which are responsible for interconnecting various missile defense sensors and systems, allowing these platforms to identify and engage missile targets in a timely and efficient manner. C2 systems collect and communicate data from various sensors, radars, satellites, and combat systems, relaying information to commanders for decision-making and assessment. Command systems also serve to intertwine air and missile defense networks, allowing for integrated air and missile defense against various and diverse threats.
---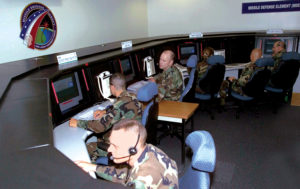 The Command and Control, Battle Management and Communications (C2BMC) System is a software package used by the Missile Defense Agency (MDA) and combatant commands to support and integrate ballistic missile defense systems. C2BMC is responsible for integrating individual BMDS (Ballistic Missile Defense System) components to create a global, networked, and layered missile defense apparatus capable of identifying, tracking, and intercepting ballistic missile threats in all phases of flight. The system is also utilized for planning missile defense engagements, situational awareness during engagements, managing missile trajectory calculation software, sensor management and control of AN/TPY-2, engagement monitoring, data exchange, and network management. Today, more than 70 C2BMC workstations are fielded throughout the U.S. missile defense enterprise.
Click here to learn more about C2BMC.
---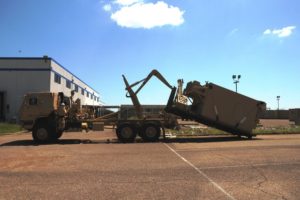 Developed by Northrop Grumman for the U.S. Army, the Integrated Air and Missile Defense Battle Command System (IBCS) is a command-and-control (C2) capability that integrates air and missile defense systems, allowing warfighters to use any sensor or weapon to achieve mission objectives. Using IBCS, soldiers trained in surveillance, identification, weapon management, and engagements can collaboratively plan and execute joint engagements of air and missile threats. The system is capable of incorporating current and future air and missile defense systems, sensors, weapons and battle management command, control, communications, and intelligence systems into a fully integrated network. According to Northrup Grumman, the system allows for "any sensor, best shooter" operations to maximize defense capability while limiting resources and allowing for flexibility on the battlefield.
Click here to learn more about IBCS.
---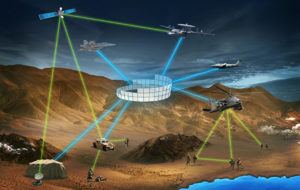 Link 16 is a Tactical Data Link (TDL) developed by ViaSat Inc. and Data Link Solutions (DLS) LLC that networks communication between land, sea, and air forces to support joint operations and improve interoperability. The system is critical for interoperability of NATO and coalition forces operating within a single battlespace. It is also used by the U.S. Navy and U.S. Army for air and sea operations, as well as air and missile defense.
Click here to learn more about Link 16.
---