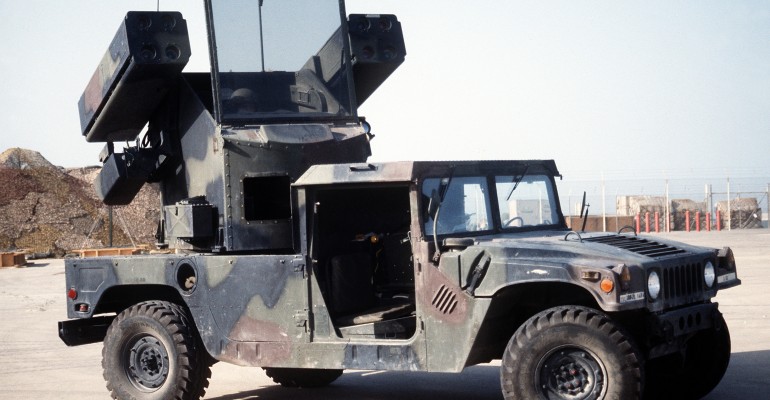 Avenger Air Defense System
March 2016 by Zach Berger
Facts
| | |
| --- | --- |
| Mobility | Highly mobile, Mounted atop a 4×4 Heavy High Mobility Multipurpose Wheeled Vehicle (HMMWV) |
| Role | Short-range surface-to-air shoot-on-the-move air defense weapon; targets cruise missiles, UAVs, low-flying, high-speed fixed-wing aircraft and helicopters |
| Components | HMMWV, C2i, radars, platforms and stinger missiles, and a .50 caliber machine gun |
| Status | 11 Avenger units in the U.S. Army and National Guard; numerous Avenger units have been sold to U.S. partners and allies |
| Producer | Boeing |
Overview
First delivered in 1988, the Avenger air defense system is a vital element of the U.S. Army's Forward Area Air Defense (FAAD) and Line of Sight-Rear (LOS-R) architecture. The Avenger is a shoot-on-the-move, completely automated, day-and-night capable short-range air defense weapon that can acquire, identify, track, and engage air targets. Avenger includes a specialized HMMWV, Command, Control, and Intelligence (C2i), radars, platforms and Stinger missiles, and a .50 caliber machine gun. [1]
The Avenger also includes a 360 degree rotating turret with two missile pods—holding up to four Stinger missiles each (eight total)—mounted on a heavy HMMWV chassis. The turret drive is gyro-stabilized allowing the missile pod to maintain aiming direction regardless of vehicle motion.
Avenger is manned by a gunner who operates inside of the firing station in-between the two missile pods. The gunner uses a glass optical sight that displays missile seeker activate, uncage, and fire permit indications. Targets are acquired by using the optical sight or the Raytheon AN/VLR-1 Avenger FLIR (forward-looking infrared), which is a laser range finder and a video auto tracker. [2] FLIR sensors provide Avenger with a target acquisition capability in battlefield obscuration at night and in adverse weather.
In addition to the U.S. Army, the Marine Corps and Army National Guard also employ the Avenger around the globe. In 1991, the Avenger was deployed to support NATO troops during Operation Desert Storm. The short-range air defense system has also been fielded in Bosnia and South Korea. In 2003, the Avenger was deployed during Operation Iraqi Freedom and was employed as an air defense and ground security system. Since it was first delivered in 1988, the Avenger has undergone numerous upgrades to maintain its interoperability and effectiveness on the battlefield. [3]
Recent News
Sources:
[1] http://fas.org/man/dod-101/sys/land/avenger.htm
[2] http://www.army-technology.com/projects/avenger/
[3] Ibid.