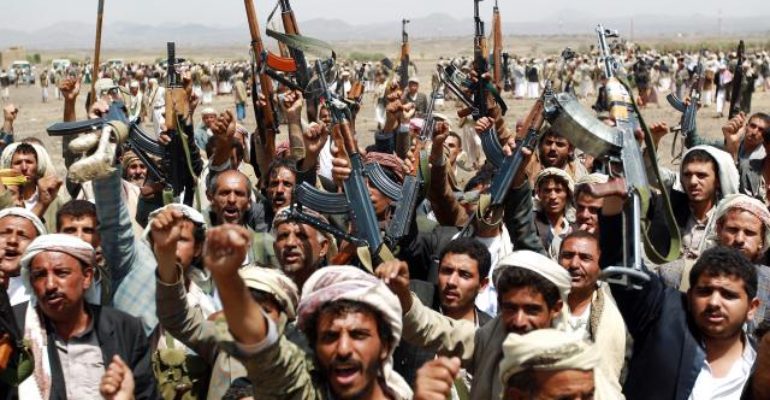 Houthis
February 2017 by Jacob Lokshin
Missile Threat
Houthi forces, after raiding Yemeni government military bases over the past few years, have acquired a stockpile of possibly more than 60 missiles and rockets.[1] Short-range tactical ballistic missiles, including the Soviet Scud-B and C, North Korean Hwasong 5 and 6, the Soviet Tochka – as well as rockets – continue to be launched from Yemen(link) into Saudi Arabia – a key U.S. ally in the Middle East.[2] Houthi forces also appear to have taken Soviet SA-2 SAM missiles and re-worked them as effective anti-ground targets, dubbing the new missile "Qaher-1."[3] Recently, reports indicate that Houthis have acquired Iranian Zelzal-3 missiles which they have begun firing into Saudi Arabia.[4]
Yemeni security forces purchased many of these missiles in the 1990s and early 2000s from North Korea before Houthi rebels seized them in the past few years.[5] As such the proliferation threat comes not from official Yemeni security forces, but from Houthi insurgents and their alleged sponsors – Iran and Hezbollah – who have seized power amid the chaos of Yemen's plunge into civil war. Secretary of State John Kerry has come forward with intelligence indicating Iranian support for Houthi forces, but both Houthi officials and Tehran dispute this.[6] The exact capabilities of Houthi insurgents are mostly unknown, yet, the proliferation of ballistic missiles to non-state actors operating in Yemen is widely evident, and continues to pose a threat.
Current Developments
Saudi missile defense systems in conjunction with preventative coalition air strikes against missile stockpiles have proved effective at negating the Houthi missile threat: Saudi Patriot Pac-2 and Pac-3 missile placements have shot down incoming Yemeni missiles with a nearly 100% success rate.[7] However, despite the success of Saudi Arabian missile defense systems, ballistic missiles continue to proliferate to dangerous actors in Yemen and remain a threat to Saudi Arabia and the surrounding region.
In October 2016, Houthi rebels launched numerous anti-ship cruise missiles at vessels operating off the coast of Yemen. Targeted in the attacks were ships operated by the United States and the United Arab Emirates. Houthis, armed with anti-ship cruise missiles, first fired at a transport vessel operated by the UAE. The vessel was severely damaged in the attack, and damage to the ship indicated that the Houthis used a Chinese-made C-802 anti-ship cruise missile.
A week later, the USS Mason (DDG-87), a U.S. Arleigh-Burke class guided missile destroyer, was attacked with a salvo of anti-ship cruise missiles fired by the Houthis. Using Standard Missile-2 and Evolved Sea Sparrow Missile interceptors, the USS Mason was able to defuse the incoming attack. The USS Mason was attacked again several times that month, each time using defense measures to thwart Houthi anti-ship cruise missiles.
History
Houthis – officially "Ansar Allah" – are a Yemeni rebel group adherent to Zaidism: a branch of Shia Islam shared by 30-40% of the Yemeni population. Zaidi Imams ruled Yemen for 1,000 years until the 1962 revolution.[8] The new Yemeni government excluded Zaidi regions from the economic and political development southern Yemen experienced.[9] In the past few years, the Houthis have stormed to power in north and west Yemen, pushing out government forces and prompting a war with the Saudi Arabian-led coalition.
In the early 1990s, marginalization, Wahhabi influence, endemic poverty, corruption and Saudi Arabian interference all stoked opposition movements in north Yemen. Here, the al-Houthi family – for whom the movement is named – began a "Zaidi revival" in Saada in northern Yemen. Aided by Iran and the recently formed Hezbollah the Houthi movement grew rapidly.[10]
Following the 2003 US invasion of Iraq, the al-Houthi followers began radicalizing, threatening government control. Tensions exploded in 2004 into an armed insurgency as the militant arm of the Houthi movement – led by Hussein al-Houthi – clashed with government "Islah" forces led by President Ali Abdullah Saleh. Although Hussein was killed shortly after by government forces his family led a continuous series of insurgencies against Saleh's government over the next 6 years.[11]
Emboldened by the success of the Arab Spring in Tunisia and Egypt, Houthi rebels participated in widespread pro-democracy protests and rebellion against President Saleh in 2011. During this offensive they began taking control of Yemeni military bases and their missile arsenals. In 2012 Saleh vacated the presidency, passing it to his Vice President Abd Rabbuh Mansur Hadi. The National Dialogue Conference (NDC) created to establish democracy after the 2011 revolution promised representation for the Houthis, but Hadi/GCC-drafted deal essentially ignored this, instead gerrymandering the country to eliminate Houthi power.[12]
Since 2014, Houthi forces allied with a returned Saleh and his supporters who splintered from the military, stormed through Yemen, and took control of the capital and much of western and northern Yemen. They have established a rival government to administer their territories, and pushed Hadi's forces to refuge in the South, while Hadi himself fled to Saudi Arabia. Since mid-2015, in the face of blockades and strikes from the Saudi coalition – combined with ISIS attacks – that have killed over 2,200 children and pushed millions to starvation, Houthi support has swelled to approximately 100,000 fighters and the group continues its missile and rocket campaigns against Saudi coalition forces.[13]
---
Missile Capabilities
| | | | | | | |
| --- | --- | --- | --- | --- | --- | --- |
| Model | Type | Propellant | Deployment | Warhead Type | Country of Origin | Range (Km) |
| Scud-B (SS-1C; Hwasong-5) | Ballistic | Liquid | Road-Mobile | Conventional, nuclear, or Chemical | USSR (North Korea) | 300 |
| Scud-C (Hwasong 6) | Ballistic | Liquid | Road-Mobile | Conventional or Chemical | USSR (North Korea) | 600 |
| SS-21 Scarab (Tochka) | Ballistic | Solid | Road-Mobile | Conventional or nuclear | USSR by way of North Korea | 70 |
| Zelzal-3 | Ballistic | Solid | TEL | Conventional | Iran | 250 |
| Qaher-1 | Ballistic | Solid/Liquid | Ground-mounted | Conventional | Yemen (reworked Soviet SA-2) | 250 |
| C-802 (CSS-N-8 Saccade) | Anti-ship Cruise | N/A | Ground-mounted | Conventional | China | 120-180 |
---
Sources
[1] http://www.middleeasteye.net/news/saudi-forces-warn-harsh-response-latest-houthi-rocket-attack-2075951606
[2] Awad Mustafa. "152 Feared Dead in Yemen Ballistic Missile Strike" Defense
[3] http://www.tasnimnews.com/en/news/2015/12/22/950631/yemen-adapts-surface-to-air-missile-to-hit-ground-targets
[4] http://www.presstv.ir/Detail/2016/07/13/475039/Yemen-Zelzal-Saudi-camp-Marib
[5] http://www.ibtimes.com/north-korea-missiles-fired-yemen-saudi-arabia-south-korean-official-says-2031548
[6] http://www.nytimes.com/2015/04/10/world/middleeast/kerry-us-iran-military-aid-houthi-yemen.html
[7] http://www.defensenews.com/story/defense/show-daily/farnborough/2016/07/12/raytheon-touts-patriot-anti-missile-performance-yemen-war/86998912/
[8] Stephen W. Day. "Regionalism and Rebellion in Yemen: A Troubled National Union." Cambridge University Press. 2012. p. 31
[9] Al Jazeera Staff. "Profile: Yemen's Houthi Fighters." Al Jazeera. August 12, 2009
[10] Ibid.,
[11] BBC Staff. "Yemen Crisis: Who is fighting whom." BBC News. March 26, 2015
[12] Agence France-Presse. "Yemen National Dialogue Conference Participants." The National. March 18, 2013
[13] http://yemenpost.net/Detail123456789.aspx?ID=3&SubID=1723&MainCat=4