Saudi Arabia air defense units intercept ballistic missile fired by Houthi militia on Najran
January 12, 2018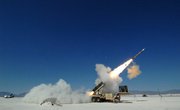 Arab News:
Royal Saudi Arabia Air Defense forces intercepted a ballistic missile over the southern province of Najran, bordering Yemen, on Thursday.
Yemen's Shiite rebels say they fired the missile targeting a special forces camp and a facility for helicopter gunships in the Saudi border province of Najran.
The media arm of the rebels, known as the Houthis, said Thursday's projectile was a Qaher 2-M ballistic missile.
Contact