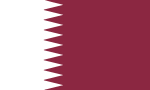 Background
Qatar is in the process of developing an initial missile defense capability as part of broader GCC efforts toward an integrated missile defense shield.
---
Ballistic Missile Defense Capabilities In Qatar
| | | | | |
| --- | --- | --- | --- | --- |
| System | Operator | Number Deployed | Platform | |
| Patriot/PAC-3 | United States | 2 | Ground-based/ mobile | |
Currently, the U.S. has two PAC-3 batteries in Qatar, but Qatar has not yet deployed any missile defense assets of its own.
---
Current Developments
In 2014 Qatar announced the purchase of roughly 10 PAC-3 batteries, and in 2015 Raytheon was awarded with the phase II contract for Qatar's Air and Missile Defense Operations Center.[i] The Phase II contract covers the "procurement, delivery and installation of the Qatar ADOC as well as the future integration of multiple air and missile systems into the ADOC" and is expected to be completed by 28 February 2022.  This system will need to be integrated with the assets of fellow GCC members and with the two U.S. PAC-3 batteries already in the country.
In January 2017, the US Army awarded Raytheon a three-year, $163.3 million contract to provide training services related to the Patriot Air and Missile Defense System to Qatar through a foreign military sales agreement.[ii]
Most recently, in August 2017, Qatar expressed interest in buying S-400 missiles from Russia, the same missile recently sold to its allies, Iran and Turkey.[iii]
---
Recent News
---
References
[i] https://www.engineering.com/AdvancedManufacturing/ArticleID/9253/Raytheon-Wins-24-Billion-Patriot-Missile-Order-from-Qatar.aspx
[ii] https://www.govconwire.com/2017/01/army-taps-raytheon-for-patriot-missile-defense-training-under-163m-fms-deal-with-qatar/
[iii] https://www.alaraby.co.uk/english/news/2017/8/25/qatar-interested-in-s-400-missile-deal-with-russia
Contact