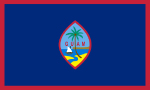 Background
Guam is an island located strategically in the Western Pacific, and an unincorporated, organized territory of the United States. Guam serves as a strategic base for the U.S. military presence in the Pacific hosting Naval Base Guam (NBG) and Andersen Air Force Base (AAFB), which are part of Joint Region Marianas.
---
Ballistic Missile Capabilities in Guam
| | | | |
| --- | --- | --- | --- |
| System | Operator | Number Deployed | |
| THAAD | United States | One (Andersen Air Force Base) |   |
| AN/TPY-2 radar | United States | One (terminal mode; Andersen Air Force Base) |   |
Pentagon officials' have stated that Guam is covered by the U.S. missile defense system from potential attacks by North Korea.  In response to the North Korean threats, the Defense Department deployed a missile defense system to Guam which includes the Terminal High Altitude Area Defense (THAAD) system and the AN/TPY-2 radar system.
As of 2015, the U.S. Army has proposed permanently stationing a THAAD unit on Guam and is conducting impact studies. This would be the first permanent deployment of a THAAD system outside the continental United States.
---
Current Developments
Both China and North Korea possess missiles capable of striking U.S. forces at Guam. Last year, the Chinese unveiled a missile known as the DF-26 that has a range of 3,400 km and modernized guidance capabilities.[i] This missile has been dubbed the "Guam killer" by U.S. analysts because of its long range and advanced guidance systems, allowing the weapon to strike installations at Guam with precision.
North Korea is also developing an intermediate-range ballistic missile (IRBM) that puts Guam at risk. Known as the Musudan, the North Korean IRBM has a range of 3,500 km and is believed to be capable of delivering a nuclear payload. This year, North Korea tested the Musudan seven times, two of which were claimed successful by the Kim Regime. Reports estimate that North Korea will operationally deploy the Musudan within a year. In September, the country's leader, Kim Jung Un, threatened to target U.S. forces at Guam using the IRBM, stating that U.S. "provocations have pushed the situation on the Korean peninsula to the uncontrollable and irreversible phase of the outbreak of nuclear war."[ii]
Most recently, in December 2017, President Trump signed the NDAA which authorizes almost $355-million for military construction on Guam, including $41-million for Phase II replacement housing at Anderson Air Force Base.[iii]
---
Recent News
---
References
[i] http://www.cnn.com/2016/05/12/politics/china-guam-killer-missile/index.html
[ii] http://www.cnn.com/2017/08/29/asia/north-korea-missile-launch-guam-threat/index.html
[iii] http://pacificnewscenter.com/president-signs-ndaa-with-355m-for-guam-military-construction-and-h-2b-provision/
Contact