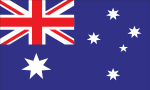 Australia
Updated December 2016
Background
Due to its strategic position in the South Pacific Ocean and historical ties, Australia is a key ally of the United States.
Australian defense policy has generally been opposed to the development of major ballistic missile defense systems. The 2013 Australian Defence White Paper  states that Australia does not advocate the development of a national ballistic missile defense (NBMD) system, stating that such a system would "potentially diminish the deterrent value of the strategic nuclear forces of major nuclear powers." Australia itself does not possess nuclear weapons, but "relies on the nuclear on the nuclear forces of the United States to deter nuclear attack on Australia," according to the 2013 white paper. Australia claimed that it does support U.S. deployment of BMD in response to missile threats from North Korea and Iran, and "will continue to participate in exercises and research programs with key partners" in order to "remain fully informed of global developments in ballistic missile defense."
Recently, a shifting strategic environment has caused Australia to reconsider its approach to missile defense, and in the 2016 Australian Defense White Paper, missile defense was presented as available option to defend the country and its deployed forces against emerging ballistic and cruise missile threats in the Indo-Pacific and Middle East regions. Within the 2016 White Paper, it is stated that, "Australia and the United States have established a bilateral working group to examine options for potential Australian contributions to integrated air and missile defense…"
---
Capabilities
As of May 2015, Australia does not currently have an ability to intercept ballistic missiles, according to the information provided by Australia's Parliamentary Library . The Australian Navy, however, is currently constructing a class of Air-Warfare Destroyers , which will l be equipped with Aegis missile defense systems. By 2017, three Hobart-class Aegis destroyers are scheduled to be operational and equipped with SM-2 interceptors for air defense. The Aegis Missile defense systems can be retroactively upgraded to incorporate ballistic missile defense capabilities, but it is uncertain if Australia will choose to do so.
Australia has developed and deployed the Jindalee Operational Radar Network (JORN) , an over-the-horizon radar (OTHR) network that monitors air and sea movements within 37,000 km3 . It has a range of 3,000 km and can monitor maritime operations, wave heights and wind directions.3 Unlike conventional micro-wave radar, OTHR uses radio reflection from the ionosphere.
In September 2011, U.S. scientists commented on the Jindalee, saying they were "impressed by its range and capability and confirmed it could detect a missile launch far away in Asia" and said that it could be a "highly effective part" of the missile defense shield being developed by the United States.
Air Defense Capabilities in Australia
| | | | | |
| --- | --- | --- | --- | --- |
| System | Role | Number Deployed | Platform | |
| SM-2 | Medium-range air defense | Deployed on four vessels | Adeliade-class frigate (4) | |
| ESSM | Short-range air defense | Deployed on 12 vessels | Adeliade-class frigates (4) and Anzac-class frigates (8) | |
---
Current Developments
Despite Australia's policy position against the development of a NBMD, it has leaned towards greater cooperation with the United States on regional missile defense in thePacific theater in recent years.
In a joint communiqué following the 2013 Australian-United States Ministerial Consultation (AUSMIN), both countries announced they would work together to "identify potential Australian contributions to ballistic missile defense in the Asia-Pacific region." The communiqué also stated that Australia would "consult" with the United States as it "develops phased adaptive approaches" to missile defense in the Pacific.
On June 13, 2014 President Barack Obama and Australian Prime Minister Tony Abbott discussed plans to enhance cooperation on ballistic missile defense system. The meeting resulted in a commitment from Australia to expand missile-defense plans to counter potential threats from North Korea.1 The White House released a statement explaining that the two countries are "working to explore opportunities to expand cooperation on ballistic missile defense, including working together to identify potential Australian contributions to ballistic missile defense in the Asia-Pacific region."2
Australia is in the process of building a new fleet of warships that could be used to counter hostile missiles, as a part of a broader military buildup. Security analyst James Brown of Australia's Lowy Institute said "this might mean the Australian Defence Force could end up mounting advanced missiles on its Aegis-equipped air-warfare destroyers."1 Following the discussion, Prime Minister Abbott said that he agreed to arrangements for an expanded U.S. military presence at whatever level was deemed "appropriate and necessary" by Washington and its allies for safeguarding regional stability.3
Recent News
Sources
Taylor Rob, "U.s. and Australia to Cooperate On Asian Missile-Defense Plans," The Wall Street Journal, June 13, 2014, accessed June 13, 2014,   http://online.wsj.com/articles/u-s-and-australia-to-cooperate-on-asian-missile-defense-plans-1402651672.
"Fact Sheet an Alliance for the Future: The United States and Australia," The White House Office of the Press Secretary, June 12, 2014, accessed June 13, 2014, http://www.whitehouse.gov/the-press-office/2014/06/12/fact-sheet-united-states-and-australia-alliance-future.
"Jp 2025 – Jindalee Operational Radar Network (Jorn)," Australian Government, Department of Defence, July 15, 2009, accessed June 13, 2014,http://www.defence.gov.au/dmo/esd/jp2025/jp2025.cfm.
Contact