Future Ballistic Missile Technology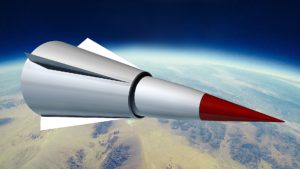 Hypersonic missiles are specifically designed for increased survivability against modern ballistic missile defense systems. These missiles are capable of delivering conventional or nuclear payloads at ultra-high velocities over long ranges. Hypersonic missiles are delivered in two ways: (1) they can be fired from the last stages of Intercontinental Ballistic Missiles (ICBM) or Submarine-Launched Ballistic Missiles (SLBM) and skip along the top of the atmosphere using specialized jet engines to accelerate to hypersonic speeds; or (2) they can be launched independently or released from a bomber—similar to cruise missiles—before accelerating to ultra-high speeds.
Click here to learn more about hypersonic missiles.