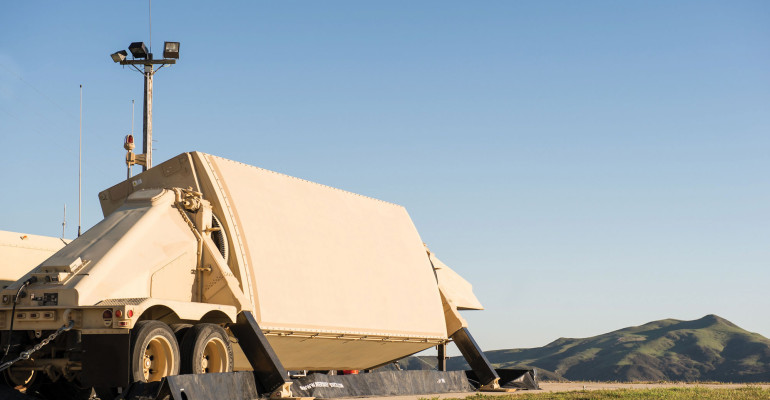 Army/Navy Transportable Radar Surveillance (AN/TPY-2)
February 2016 by Zach Berger
Facts
| | |
| --- | --- |
| Mobility | Transportable by air, ship, and truck; moderate mobility |
| Role | Forward-based radar for BMDS; Primary terminal radar for THAAD |
| Deployment | Israel, Turkey, Japan, Guam (THAAD), and Fort Bliss, Texas (THAAD) |
| Frequency | X-band |
| Range | 1,000 km |
| Producer | Raytheon |
Overview
Manufactured by Raytheon and specifically designed for ballistic missile defense, the Army/Navy Transportable Radar Surveillance (AN/TPY-2) is deployed to enhance the ballistic missile defense system by adding robustness against a wide range of threats and providing support for increased protection. The TPY-2 is a high-resolution, X-band class, phased array radar that is transportable by air, ship, and truck. It is also deployed with a command and control interface, a radar support trailer, generators, and supply containers.
Operated by the U.S. Army, the TPY-2 is employed to provide regional and strategic ballistic missile threat data to the entire Ballistic Missile Defense System (BMDS) through Command and Control, Battle Management, and Communications (C2BMC) system. The X-band frequency allows the advantage of being able to tell the difference between smaller objects, such as a warhead, against space debris. This discrimination capability is called "range resolution," and allows the TPY-2 radar to provide detailed tracking and discrimination data to the BMDS. The TPY-2 can be set to one of two settings, each designed to meet different requirements: forward-based mode for boost phase surveillance and terminal mode for terminal phase surveillance and Terminal High Altitude Area Defense (THAAD) fire support.
Forward-Based Mode—Boost Phase Surveillance Forward-based TPY-2 radar coupled with layered sensors give the Ballistic Missile Defense System earlier and continuous tracking and discrimination capability with more opportunities to engage the target, resulting in a greater probability for a successful intercept. It performs autonomously or is cued in coordination with other sensors, passing target data to the command and control system for use by other sensors. When in forward-based mode, the TPY-2 surveils for all classes of ballistic missiles in the boost phase of their trajectory. It is able to acquire, track, discriminate, classify, identify, and estimate the trajectory parameters of threat missiles and missile components. Once this information is gathered, it is passed along to (BMDS) tracking, discrimination, and fire control radars downstream. This approach provides overlapping sensor coverage, the potential to extend the BMDS battlespace, and the ability to complicate enemy's ability to penetrate the defense system.
Terminal Mode—Terminal Phase Surveillance When deployed with THAAD, TPY-2 is placed in terminal mode, allowing it to detect missile threats in the terminal phase of their trajectory and provide fire support for missile intercept. When in terminal mode, TPY-2 works directly with (THAAD) to surveil, detect, track, discriminate, and provide fire control support against short- and medium-range ballistic missiles as they descend towards their target. Once a terminal-phase threat is detected and tracked, TPY-2 then provides fire control support for THAAD, which launches an interceptor—guided by the TPY-2—to intercept the ballistic missile target.
Deployment Ten total AN/TPY-2 radars have been produced, with an additional two in development. The TPY-2 is deployed in forward-based mode in Israel, Turkey, Qatar, and Japan. In Israel, Turkey, and Qatar, forward-based TPY-2 radar is employed to surveil for boost-phase ballistic missile threats launched out of the Middle East. Information on these ballistic missiles is then provided to the BMDS and Aegis BMD systems in Europe as part of the European Phased Adaptive Approach (EPAA). In Japan, two TPY-2 radars are used—at Kyogamisaki Sub Base and Shariki Military Base—to surveil for boost-phase ballistic missile threats launched out of North Korea. Additionally, there are five total THAAD batteries, one in Guam and the remaining four at Fort Bliss, Texas. Each THAAD battery is equipped with its own AN/TPY-2 radar in terminal mode.
European Phased Adaptive Approach
The AN/TPY-2 is a major factor of the EPAA. In 2011, as mandated by Phase I of the EPAA, an AN/TPY-2 radar was deployed in Turkey in forward-based mode to detect ballistic missile threats coming out of the Middle East—particularly Iran. The AN/TPY-2 radar in Turkey provides the BMDS with continuous tracking and discrimination capability and more opportunities to engage a target originating in the Middle East. Radar tracks from AN/TPY-2 are used to provide early tracking information that increases the capability of regional missile defense assets in Europe. When coupled with other sensors involved in the EPAA, the TPY-2 in Turkey helps to provide a greater probability for a successful missile intercept.
Current Developments
In 2012, the U.S. National Research Council submitted a report that recommended an improved TPY-2 radar as part of the Ground-based Midcourse Defense system for the continental United States. On the ground, five integrated and rotatable TPY-2 radars would be added, each with X-band uplink and downlink modes. Four of these would be co-located with four current Upgraded Early Warning Radar (UEWR) sites. The additional TPY-2 radar would be placed at Grand Forks, ND, which currently houses the 10th Space Warning Squadron. It has been argued that the TPY-2's X-band wavelength provides better discrimination between warheads and decoys than do current UEWR radars.
Recent News
Timeline
April 2013: THAAD battery—with corresponding AN/TPY-2 radar—deployed to Guam in response to threats from North Korea.
September 2012: The U.S. military and Japan agree to place a second TPY-2 radar in Japan.
July 2012: AN/TPY-2 deployed to Al Uedid Air Base in Qatar, across the Persian Gulf from Iran.
September 2011: Turkey agreed to emplace an AN/TPY-2 radar, as part of the EPAA Array system. The radar will be deployed facing Iran and lined to U.S. Navy systems.
September 2008: The U.S. Army's European Command deployed an AN/TPY-2 radar to Israel's Nevatim Air Force Base in the Negev desert. A 120-member support team accompanied the radar.
2007: The U.S. deployed its first AN/TPY-2 Radar to Japan to provide forward-based surveillance and improve missile defense in the region.
July 2007: Raytheon announces $304 million contract from the MDA to develop advanced tracking and discrimination capabilities for the BMDS forward based AN/TPY-2 radar.
February 2007: Raytheon received $20 million modification contract that could go up to $212.2 million to manufacture, deliver, and integrate the AN/TPY-2 radar component of the THAAD ABM system.
Sources: