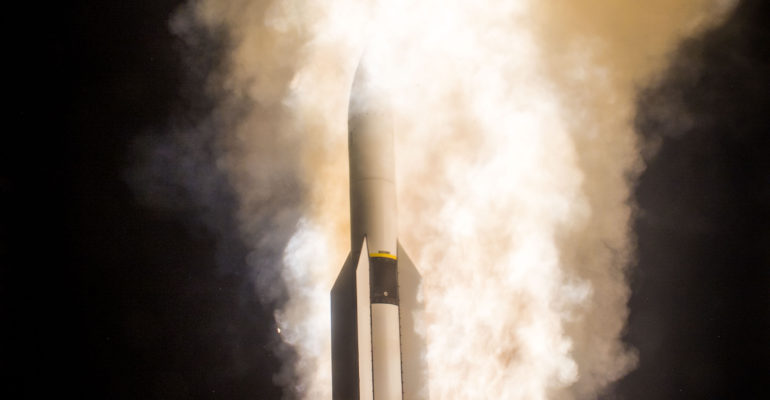 'Fireball' – "We're Taking It, We're Taking It, We're Taking It Down"
December 15, 2016
Off our best air and missile defense Aegis BMD destroyer in the Pacific, the USS John Paul Jones (DDG 53) – which is equipped with the newest fire control baseline-9 processor and SM-6 interceptors – the United States Navy tracked and intercepted the most capable and maneuverable ballistic missile deployed in the Pacific today, a target missile, representing the Dong- Feng 21 Chinese "carrier killer."
The target missile, representing the DF-21 was tested earlier this year (Link to MDAA Alert on target missile test earlier this year) by the Missile Defense Agency (MDA) in preparation for this significant and historic intercept that took place at midnight last night off the coast of Hawaii.
Since 2010, when the DF-21 – with a range of 1,000 to 1,700 miles and employing maneuverable re-entry vehicles – was declared to have reached initial operating capability by the United States Department of Defense (DoD) as a high hypersonic land-based anti-ship missile capable of targeting a moving aircraft carrier strike group, the United States has worked and invested to develop a ship-based interceptor to defeat this missile. Last night the MDA's and United States Navy's investments in technology and engineering from current capability to defeat the DF-21 came to fruition with the already deployed SM-6 interceptors and is a historic event for the defense of the U.S. Navy's Carrier Strike groups. Three years ago, Russian military analysists said the only way to counter the DF-21 was through electronic counter measures. However, today there are over 300 SM-6 interceptors in the U.S. Navy Fleet with a capability to produce thousands more, that have now been proven to be capable of intercepting the DF-21. It is a testament to American ingenuity, leadership, and resolve to stay ahead of the advancing threats with current U.S. capabilities and technologies.
Last night off the coast of Kauai – at the Pacific Missile Range Facility (PMRF) – a medium-range target missile, representing the Chinese DF-21, was launched over the Pacific. The USS John Paul Jones (DDG 53) picked up the launch and tracked it with its SPY Radar, processed the firing solution through its baseline-9 processor, and enabled the ship's commander to launch SM-6 interceptors in a salvo, one missile following another missile for increased Probability of Kill (PK) from the Vertical Launch System (VLS) tubes to intercept the incoming target missile. (Link to MDA press release) The SM-6 interceptor uses proximity explosives to intercept its target rather than hit to kill, metal on metal that the SM-3 interceptors do. The SM-6 interceptor is a remarkable missile, unlike any in the world, that can do three missions that are vital for defending the ship and the carrier strike group – air defense, ballistic missile defense, and offensive strike.
Great credit and appreciation goes to the DoD, the MDA, and the United States Navy under President Obama's Administration for this significant achievement that will be noted throughout the Pacific, with our Allies and our near peers of China and Russia.
President elect Donald Trump stated on Tuesday that we are going to build up our military 'big league', the Aegis BMD Ships with baseline-9 and the SM-6s interceptors are in the big league.
"To Mr. Worldwide to Infinity"
"Fireball"
"I came, I saw, I conquered."